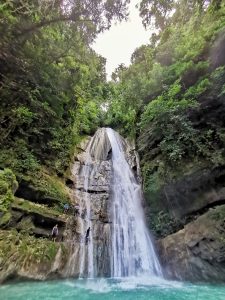 SEEING an online photo of Kapuka Falls situated in a paradisiacal setting up in the boondocks of Barangay Lamiawan persuaded us to return to Caraga.

We, composed of a team from the DOT Davao Region led by regional director Tanya R. Tan , were just in the municipality not too long ago for site assessment. Kapuka seems just too hard to resist.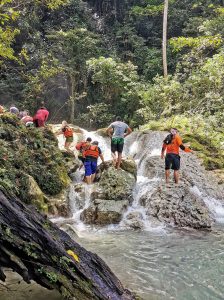 Getting to this fascinating waterfall, however, was no walk in the park. It took us around 4 hours to travel from Davao City to Poblacion Caraga, then another 20 minutes (about 5 kilometers) to get to Lamiawan Barangay Hall, where all visitors need to register, pay an environmental fee (PhP50), then assigned a "habal-habal" driver who will also be one's guide to the falls (guide fee is PhP300).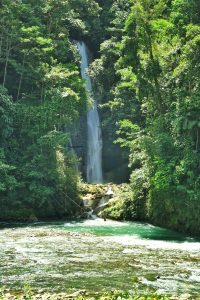 After gearing ourselves up for the next leg of the journey, we drove for 30 minutes to reach Sitio Gab. Unfortunately, we had to leave our vehicle, even if it was a 4×4, as the trail got narrower, steeper and bumpier as we got closer to our destination.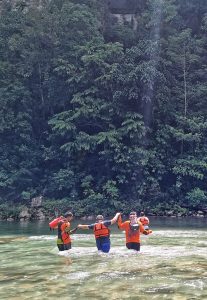 The "habal-habal" ride came to a halt at an open hut in Sitio Gab, which also signified that we need to get our hoofs ready for a 20 minute (depends on your speed) descent. Tip: it's no race, so just enjoy the trek and be careful with each stride.

As we touched down by the riverbank, we could already see a faint glimpse of Kapuka from across Lamiawan River. Yes, from across the river, thus, our next hustle was to navigate the stream by foot (life vests are provided). Ugh, basic. Or so we thought.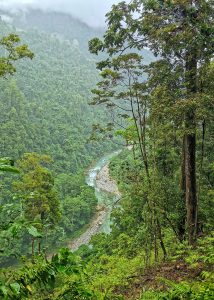 In about 15 minutes, right after clambering a few boulders, we finally met the majestic Kapuka Falls. There she was – a spectacular beauty concealed by lush vegetation amidst Lamiawan's rocky ridges. The cascade from the 160+ foot drop would form a pool before draining down to the river.


Kapuka's water was surprisingly turquoise. I don't think I have seen such color in waterfalls on this side of Mindanao. It was simply mesmerizing.

RD Tanya also observed the presence of colorful butterflies, from our descent until we reached the falls, which all the more made this still-unsullied Eden more enchanting. We all wished it would remain that way.

Caraga Tourism Officer Ferdinand Esteves Baldonado later informed us that there were actually other waterfalls in the area – including Ugwad Falls, which is another 20 minute hike – but we decided to explore it on our next visit.

Remember to always travel with extra care. Follow health protocols. #AmpingKita gihapon. Special thanks to the Caraga Tourism Office team.