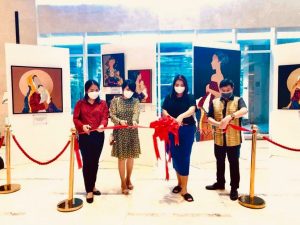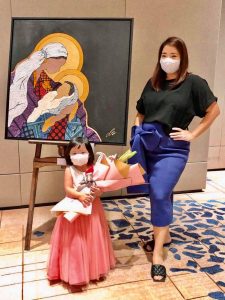 CHRISTIANITY has given us the womanly perfection, the creative power of the mother, as illustrated through the Madonna and Child. Mother Mary, especially for us Marian-devoted Filipinos, is the symbol of humanity.
The picture of Mother and Child immediately induces feelings of warmth, love and security for us, Christian devotees. It is through Mother Mary that we strongly believe that we are blessed with divine protection, redemption, and forgiveness.
The Mother and Child image has prevailed as a symbolic theme throughout art history. Last May 3, 2021, presenting the Mother and Child in a new form that illuminates "the wonderful journey of Motherhood" was Davao's celebrated visual artiste, Tanya Gaisano-Lee.
Tanya launched her month-long art exhibition named "The Colorful Shades of Motherhood" on her 36th birthday celebration itself at the Acacia Hotel Davao. Happily joining her in the ribbon-cutting ceremony were DATA President Cherry Banquil Al-ag, Acacia OIC Manager Agot Serrano and former Data President Gatchi Gatchalian.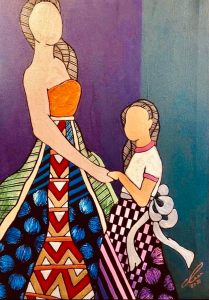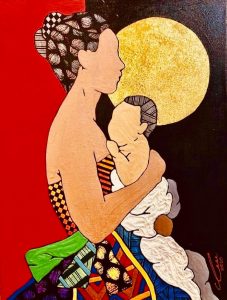 "Acacia Hotel Davao is proud and happy to feature the masterpieces of Ms. Tanya as they show the beautiful aspects of motherhood. Each of her paintings symbolizes the strength and hope that a mother gives to her child and that's what we need to be reminded of every day, especially now," said the Acacia Hotel's OIC Manager Agot Serrano.
It was in May 3, 2019, that I first came to view Tanya's visual art pieces in her first solo art exhibition, "Beyond the Womb," held at the Marco Polo Davao. The opening night saw the attendance of three generations of prominent members of Davao's Chinese-Filipino business community. Tanya's beloved parents, Hans and Winnie Gaisano flew in from Manila to attend their unica hija's special event that Covid-free time.
The Beyond the Womb exhibition in 2019 was about Tanya's journey in conceiving a precious child. "It was a long and painful journey that tested not only myself and my faith, but my marriage as well.
Eventually, my husband Jerick and I were able to overcome all the challenges and have our own child," I recalled her telling me then. This time around, her exhibition is about extolling the beauty and self-less, unconditional love of a mother which was a timely reminder of Mother's Day which we celebrated last May 12.
Tanya considers her artworks as "universal" as she believes the younger generation can easily relate to them. "It is contemporary art. My art subjects and overall aesthetic are quite pleasant. I do not appreciate and relate to the morbid and dark themes which might be popular today. When one sees my art, it is readily recognizable as they are distinct from the works of other artists in my use of patterns and bold and solid colors."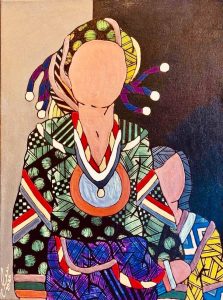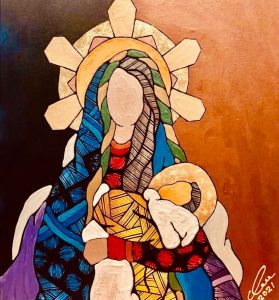 Indeed, for a self-taught artiste who started painting in 2014 upon the prodding of her husband of a business entrepreneur, it is impressive that Tanya has established her individual distinct subjects and style quite early. "I will always be grateful to my husband for convincing me to pursue this artistic passion in me," she acknowledged.
"From the different roles I play as a woman, to the culture we are blessed with, and from our travels to different places, all these contribute to my way of art. Honestly, I paint better when I am mad or not at ease. Painting is my release and it enables me to shut out all the irritants of life."
Personally speaking, I view the pleasant portraits (I wonder if you can call them portraits without the faces of the subjects) of the Mother and Child of Tanya Gaisano-Lee as the reflection of society and how it has changed through the Mother and Child image from the symbol of Christianity to become a conception of secular importance in contemporary times.
In them, you will recognize the beauty and spirituality as well as the tensions of modern life a mother has to face as interpreted so interestingly by Tanya Gaisano-Lee in her Colorful Shades of Motherhood.