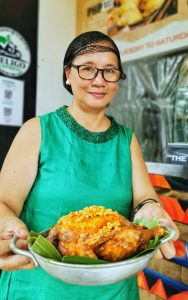 IN 2007, Dabawenyo Paul Galdo brought his entire family to Singapore, where he worked as an engineer, behind some of Singpore's mass rapid transit line and power plant projects. His wife, Daisy, meanwhile, was able to hone further her culinary skills when she got employed at Subway fast food, where she became manager.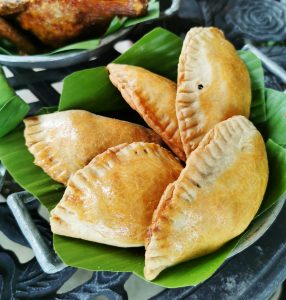 The Galdo couple raised and sent their children – Ramon Miguel, Penn, and Chloe – in Singapore, where they are now also based.

After 20 years of hard work in the island city-state, the couple finally decided to head home to Davao City two years ago to start life anew.

"When we came back, our kids were worried that we'd get bored. So, we thought of something to keep us busy," shared Daisy.

While in the midst of a pandemic last year, they realized that food business was thriving. That was when they thought of their family fried chicken recipe.

"We thought of something different yet something close to us, as a family. So we decided to give our family recipe a shot and opened a take-out outlet last July," she recalled.

And it was quite a success.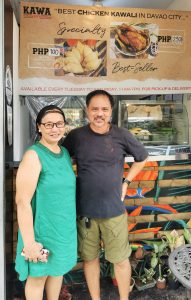 "Surprisingly, we received a lot of rave reviews of our fried chicken. We immediately got repeat customers as far from the northern side of the city," said Daisy.

Kawa (a name that daughter Penn came up with, after recalling how they traditionally fry their chicken at home) Original Chicken Kawali is located near the Relief Bridge on the Matina Aplaya side.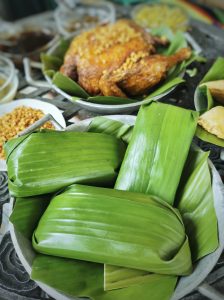 What makes their deep-fried chicken different is that they don't use breadings and extenders, like how most fried chickens are now prepared. Instead, they went back to basic and used local herbs to bring out the natural flavors.

Apart from their now famous chicken kawali, they also sell "pastil" (rice topped with shredded chicken and wrapped in banana leaves ) and chicken empanada, another family recipe.

"We simplified our menu because we want to focus on our fried chicken. Since we're hands-on with the business, it allows us to maintain quality as well. Above everything, we just want our customers to be satisfied with our food," Daisy shared.

Kawa Original Chicken Kawali comes with an option of their Tanglad Glaze (citrus-flavored herb glazed with lemon aroma) or Spicy Calamansi Glaze Kawa Chicken (intense tangy-sweet glaze) – both guaranteed to take the kawa chicken experience to the next level.

Kawa Original Chicken Kawali is open on Tuesdays to Saturdays, from 10:30am to 7:00pm, for pick and delivery via Minute Rider and DeliGo app, or directly from their outlet.



KAPAMILYA SHOWS NOW IN MINDANAO VIA TV5 AND ONLINE


A year after the shutdown of its broadcast operations, ABS-CBN reaffirmed its commitment to serve Filipinos with a simple but meaningful message "Andito Kami Para Sa 'Yo" (We are here for you) as it continues to produce new content seen in different channels on TV and digital platforms.

This has been true for Filipinos nationwide, including those in Mindanao, who are now able to watch several ABS-CBN shows, including the entire weekday primetime block, on TV5. Those using digital TV boxes, like ABS-CBN TV PLUS, only need to rescan to watch hit shows, such as "FPJ's Ang Probinsyano" and "ASAP Natin 'To" on TV5.

The message was all over social media last May 5 as the company reminded its audiences that ABS-CBN is still here to provide them support, light, and joy through its content, which are available on free TV, cable, online, and on streaming platforms.

Filipinos are now able to watch well-loved ABS-CBN entertainment programs including weekday primetime block on free TV and via digital box on A2Z Channel 11 and TV5. On cable, Filipinos continue to enjoy shows, movies and other content on Kapamilya Channel, A2Z, TV5, Cinemo, Jeepney TV, CinemaOne, Metro Channel, MYX, and Knowledge Channel, and get their news updates on TeleRadyo and ANC, the ABS-CBN News Channel.

Online, ABS-CBN programs can be viewed on Kapamilya Online Live on Facebook and YouTube, iWantTFC, WeTV iflix, and MOR Entertainment on Facebook, kumu, Spotify, and YouTube.

ABS-CBN also continues to champion Filipino talent through Star Music and Star Cinema, and able to provide help and support through ABS-CBN News Public Service and ABS-CBN Foundation.