FORMER world champion Gerry "Fearless" Penalosa's decision to transfer the fight to Gen. Santos City from Laguna was just right according to veteran referee-judge  Silvestre Abainza of Parañaque.
"Tama lang talaga si Gerry. Mahirap ng ma lockdown sa Manila (Gerry was absolutely right. It is difficult to lockdown in Manila)", said Abainza.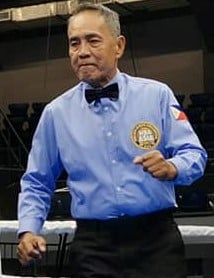 Penalosa transferred the fight between featherweights Criztian Pitt "Golden Boy" Laurente and Vergil "Strong Man" Puton from Tanaw de Rizal, Laguna to Gensan.
It was originally set on May 29 at the Tanaw de Rizal in Laguna.
Penalosa was afraid that there might be a lockdown in Manila.
Meanwhile, Abainza had just arrived from Papua New Guinea where he and four other Pinoys had conducted a boxing championship featuring Roldan Aldea of the Philippines against Junior Kauko Raka of PNG last April 25.
Abainza worked as the supervisor and judge while the other two judges were Saldy Lopez and Elmer Costellas. The referee was Alfie Jocosol Jr.
The 27-year-old Aldea (16W-9L-1D, 9KOs) had won the fight by a unanimous decision.
"Mahirap talaga ang pagpunta namin at pabalik (It was really hard for us to go back and forth)", said the 68-year-old Abainza.
Abainza and his group left the Philippines last April 9 and had a quarantine in Papua New Guinea.
"We also had a SWAB test in PNG before we conducted a weigh-in last April 24," he said.
Prime Minister James Marape was even present during the fight last April 25.
The group again had a SWAB test before going back to the Philippines. But they took the flight already on May 2 and also had a quarantine again in Manila.
They also had another SWAB test on May 5 and they all passed.
After 24 hours, they all had check-out the hotel.
"Pinapabalik kami sa PNG sa July for a rematch (We are being sent back to PNG in July for a rematch)", said Abainza.
"Mahirap kapag hindi pa nawala ang Covid (It's hard when Covid isn't gone yet)", said Abainza. (Lito delos Reyes).