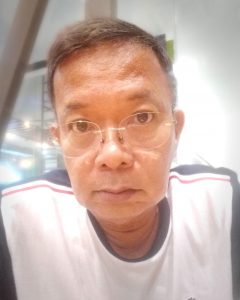 AFTER I have read right through each of the mother's day messages I saw on social media yesterday, I didn't really feel the urge to write my own greet or disclose whatever I wanted to convey for all the moms I knew. I merely tapped on the available heart icon and that was it.

I did the same thing in all the lovely pics of mothers posted by my special circle of friends and family. To further spread the positive vibe, I too heart-tapped on the messages to and photos of the mums of whom were my acquaintances. In other words, up to my very own six degrees of separation.
After all why the hell not, on this internationally special day, mothers of my friends of friends of friends deserve to be covered in my umbrella bomb-run of Happy Mother's Day greetings too!

In short, I was laconic as could be on this day that we honor our mothers. Lest we forget what is perhaps more important, we honor that overall concept of their nurturing maternal instinct that is also synonymous with unselfish giving love.

In the least, that might be just one of the many short definitions of motherhood, but yet, it's still wordy, isn't it? So, I have opted for no words needed instead and just overwrote every intended response with a simple ❤️. So for my dearest mom, wherever in the heavens she may be at this moment, she could likewise extend to us the same heart message with no words, and I'd totally get it.

Funny thing about this occasion is that kids growing up remember it so well. It's one of those times when teachers tell you to make crude greeting cards for your mums whom you see everyday in the first place. For many kids, the question is the same: what's all the fuss about? My mom already knows I love her!

Then as time goes by, you notice that your once simple idea of "mom" had already slowly extended to your sisters, cousins and girl-friends who had all begun to start their own families. They have become moms like your own mom! Like life turning full circle, you then begin to see little tykes wishing their own mums happy mother's day just as you did many years ago.
With many years more, as these tykes grow older, some eventually become mothers, and you see more people greeting your mom, their moms and all other mothers out there. No end in sight it seems, not until you end, that is.

Through it all, the idea behind our celebrating mother-hood day might as well be as profound as honoring everything that makes life possible on this orb we call home. Our mothers, sisters, cousins, nieces, children and others all have their turn at nurturing those under their care. Theirs is not a legacy, as that would mean a servitude of sorts. As old as time itself, motherhood remains as that ❤️ representing unfaltering and unconditional love that gives without question.