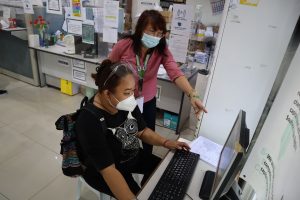 The Securities and Exchange Commission – Davao Extension Office (SEC-DEO) has reminded corporations to enroll in the SEC Online Submission Tool (OST) as soon as possible to ensure a seamless transition to the online submission of reports.
The SEC-DEO reiterated the reminder as the Commission now implements the mandatory enrollment and submission of corporations in the OST, which deadlines will start in June. This is in compliance with Memorandum Circular No. 3, Series of 2021 (M. C. No. 3, s. 2021) or the Schedule and Procedure for the Filing of Annual Financial Statements, General Information Sheet and other Covered Reports.
"Their enrollment need to be reviewed first before they can submit their reports. The review will take time, so they need to enroll as early as now," the extension office said.
The Commission has ordered corporations and their authorized filers to enroll in the OST by accomplishing the online application form and submitting the required documents at https://ciffs-ost.sec.gov.ph.
In the online enrollment, corporations are required to submit a Board Resolution or Secretary Certificate authorizing the corporation's representative to file reports on its behalf, and a copy of their SEC Memorandum Circular No. 28, Series of 2020 form or their submitted GIS using the 2020 version of the form.
After the enrollment with the OST is approved, corporations may then upload their annual reportorial requirements.
The Commission announced on March 31 that all stock and nonstock corporations shall have 90 days from the date of the annual stockholders' meeting to submit their General Information Sheet.
For the filing of Annual Financial Statements (AFS), corporations whose fiscal years ended on December 31, 2020 shall observe the following schedule based on the last numerical digit of their SEC registration numbers: 
1                        :           June 1 to 30
2                        :           July 1 to 31
3 and 4              :           August 1 to 31
5 and 6              :           September 1 to 30
7 and 8              :           October 1 to 31
9 and 0              :           November 1 to 30 
Corporations also have the option to file ahead of the prescribed filing dates through the OST, while those required to submit the General Form for Financial Statements (GFFS) and Special Form for Financial Statements (SFFS) will have 30 days from the deadline of their AFS submission to comply using the OST.
For inquiries and other concerns, the public may reach the SEC-DEO at 0915-327-4459 or 0933-455-3547.
The public is also advised to monitor the SEC website at www.sec.gov.ph and official Facebook page at www.facebook.com/PhilippineSEC for more information and further announcements.