By Van Fritz F. Carniyan (UM Intern)
As of 2021, the local government has already installed 27 bicycle lanes on different roads and highways within the city. The Transport and Traffic Management Office (CTTMO), together with DPWH-Davao, made the project possible for the safety of the growing population of cyclists here.
The dedicated bike lanes have a total length of 22.786 kilometers, covering the major roads of the city, and at least ₱145 million was allocated for the construction of the project.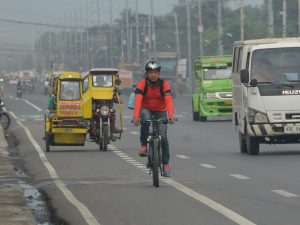 CTTMO chief Dionisio Abude said 27 roads in the city have new and upgraded bike lanes with broken green markings, solid green markings, solid white lines and broken white lines. One upgrade to the bike lanes is the installation of reflector lights to make it easier to spot them at night.
The broken green markings signals bicycle riders that they are approaching an intersection and the solid green markings are placed in the intersection. This is where the bikers wait before it is clear and safe to pass or yield to other vehicles.
The space within the solid white lines is intended only for bikers to pass, while the broken white lines can be used by other vehicles but should not stay longer than necessary.
The CTTMO also placed signages for vehicles and bicycle riders on the use of bike lanes on these roads. These markings and signages will provide additional safety for both cyclists and motorists and it will also help smoothen the traffic flow within the major roads of the city.
The government is also planning to create more bicycle lanes in six areas within the city in addition to the 27 newly upgraded dedicated bicycle lanes.
According to the plan, the CTTMO and DPWH-Davao will create additional bike lanes along Matina Aplaya to Ecoland Drive, Ecowest Drive, C. Bangoy Street, Tulip Drive, Carlos P. Garcia Highway, also known as diversion road, and Davao-Bukidnon Highway.
Abude also said the 19th City Council will continue to harmonize the safety provisions of the Bicycle Ordinance and the Traffic Code of Davao.