YES, there is a 54 hectare forest right within this highly urbanized metropolis: the ALI Davao Carbon Forest in Bago Gallera. The carbon forest is a partnership between Ayala Land Inc., and the Philippine Eagle Foundation, Inc, with a goal of planting 17,500 trees in its 6-hectare reforestation site.

"This is in line with ALI's objective in offsetting or neutralizing the carbon emissions of their commercial properties by 2022," shared PEFI forest restoration officer Camila Frances Naputo during the launch of their Volun-tour Carbon Warrior program last April 24.

To achieve this, ALI engaged with PEFI for their expertise in reforestation, wildlife conservation, and most importantly, volunteer mobilization.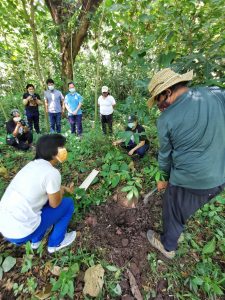 "We also want to make it place for learning and a safe recreational space for anyone seeking respite. We also plan to expand our reforestation site and plant as many trees as possible to bring back wildlife and make it as a carbon sink for Davao City," she added.


The Carbon Warrior program is open to interested individuals or groups, from all ages, whether residing within or outside of Davao City, and wants to offer their skills, time, and talents to the reforestation efforts.

There are three ways to volunteer. First, as Virtual Volunteer, where one can adopt a seedling and custom-name it (without leaving the comforts of your home) while the good people at PEFI will take care of it for the next 6 months.

Second, as Volun-tourist, one can have a volunteer experience at the carbon forest for a day (weekends).

"Volun-tourist will follow an itinerary, which includes an orientation, actual nursery and plant care, join a tree planting session, adopt and name a seedling, do maintenance work, and experience a guided tour inside the woodlands," shared Naputo.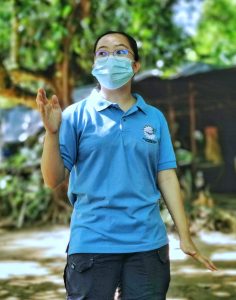 Lastly, as a Regular Volunteer, where one needs to commit for 6 months to the program, reporting regularly for reforestation work and rendering daily activities inside the forest.

"It's an ecotourism experience where you undergo actual reforestation work," explained Naputo.

With more volunteers, the ALI Davao Carbon Forest, described as a "remnant forest patch that encounters periodic flooding", can fast track its efforts in regenerating it back into a lush patch of greens.


Their reforestation effort that started in 2018 has produced various endemic tree (uos, bogo, kamansi, antipolo, narra, malibato, igyo, bakan, kape, guyabano, rambutan, sambag, marang, macopa, santol, bayabas, alum/alim, kaimito, mansanitas), flower (marigold, cosmos), and native herb (tanglad, sangig, kalabo, native sibuyas, mayana tanglad bisaya) species in the area.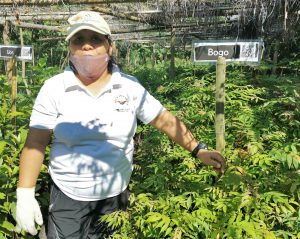 After decades of destructive human activities, the carbon forest has also become a thriving home to more than 20 species of trees, more than 50 species of birds, various species of beetles, snakes, bats, frogs, and other wildlife.

"We're currently doing a biodiversity assessment with biologists from the University of the Philippines – Mindanao to help us identify more wildlife species inside the forest," Naputo said.

Interested volunteers may register via the Philippine Eagle Foundation website.