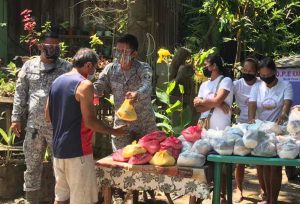 THE Philippine Air Force's Tactical Operation Wing-Eastern Mindanao (TowEastMin) conducted a community pantry dubbed "Tulong Bayanihan para sa Sambayanan" in Barangay Talomo Proper last April 24.

1Lt. Erwin Manabat, the civil-military operations officer of TowEastMin, said the team distributed a total of 144 kilos of rice, 288 pieces of assorted canned goods, and 240 pieces of instant coffee drinks to 220 local residents.

with the theme "Kayang-kaya, at may Pag-asa, Basta't Magkakaisa", together with
The team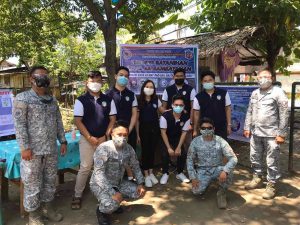 He said the activity was made possible through the partnership with the Tactical Operations Group XI, Philippine Air Force Civil-Military Operations Group, Mindanao Peace Council, H.O.P.E. Kababaihan Foundation, and Ateneo de Davao University's Samahan.

"The continuous onslaught brought by the COVID-19 pandemic and the continued implementation of community quarantines have greatly affected our people, especially those suffering from poverty and unemployment. This situation had led to serious threats to our health, safety, security, and the lives of everyone," TowEastMin said in a statement.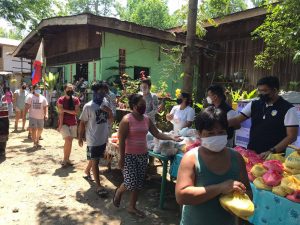 "Like other organizations and volunteer groups, the idea of establishing community pantries helped others sustain their basic needs. The Armed Forces of the Philippines (AFP) as a protector of people supports this endeavor to alleviate their sufferings, inspire them of hope and foster the spirit of 'Bayanihan' in these trying times," the statement added.

The Tactical Operations Wing Eastern Mindanao is a unit of the Philippine Air Force stationed at Davao Air Station, Barangay Sasa this city.

Photos courtesy of Tactical Operations Wing Eastern Mindanao.