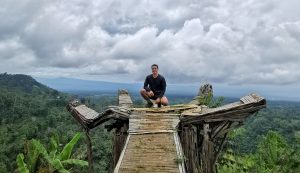 WE HAD an early Earth Day celebration last April 17 when the Malagos Garden Resort team, together with the Barangay Council of Carmen and PS11 Baguio, joined forces in planting fruit trees at the peak of Mt Karilongan in Sitio Karilongan, Barangay Carmen, Baguio District, this city.


Mt Karilongan, 1,102 meters above sea level, is part of the Koontayan 'to Obu Manuvu Eco Adventure Park. However, it is currently still closed to the public and is set to re-open on May 8.

"The property occupies 126.2 hectares of land for livelihood purposes, out of the 2,289 hectare ancestral domain territory of the Obu-Manuvu community here in Carmen," said Joshua Donato, forest protection officer and field biologist of Euro Generics International Foundation, Inc. (Philippines).

Euro Generics International Philippines Foundation, Inc is the non-government organization partner of the Obu-Manuvu community, helping them protect their ancestral forest territory by supporting them through sustainable livelihood, forest protection, and forest rehabilitation and restoration for, at least, a decade now.

To enter Mt Karilongan, we had to register at the Obu-Manuvu community center, where we also had the opportunity to meet Boyyahon (Datu) Paulino Landim Sr., the tribe's chieftain.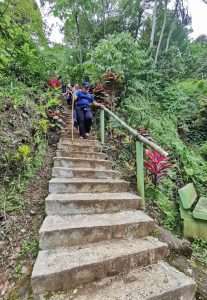 According to Donato, Karilongan means "nawalaan" (got lost) since the place was believed to have recorded a number of missing hunters near the river back in the day.
Today, however, there's no more reason for guests to get lost in this wilderness as the community built a paved trail and stairway – 1,083 steps high – to the top.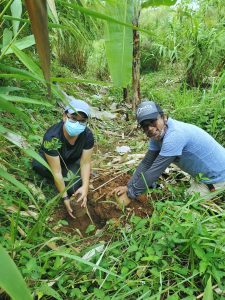 They also built pit stops, along with signages that tell one's location and some witty adages to keep visitors entertained on their journey.

Upon reaching the peak, we were welcomed by the breathtaking view of Mt Talomo as well as the adjacent communities and farms down below.

We also had a taste of their native coffee and steamed kamote, balanghoy and banana for snacks, and a feast of "linutlot nga manok" (chicken cooked in bamboo) and native chicken soup for lunch. We were told the community would sometimes cook "linutlot nga baki" (frogs) and freshwater fish, like paitan, kasili and pantat, also using bamboo.

Other activities at Mt Karilongan include birdwatching and bird photography, and farm stay. They also hold traditional rituals and cultural presentations to educate guests on the customary practices of the Obu Manuvu tribe.

"Visitors can also become a Bantay Bukid (forest guard) for a day, and join plant and adopt-a-tree activities in our reforestation sites," he added.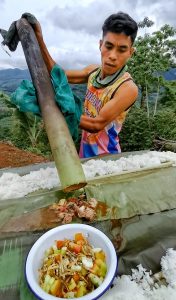 Koontayan 'to Obu Manuvu Eco Adventure will soon offer day tours and overnight stay. Day tour is pegged at PhP200 person inclusive of a guide, fees and traditional snack (native coffee and lagutmon).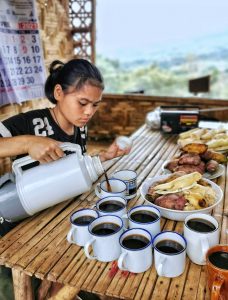 There is a required minimum of 5 persons per tour. Meanwhile, overnight stay is priced at PhP1,000 per person inclusive of guide, fees, accommodation, traditional meals (dinner and breakfast) plus unlimited native coffee, with a minimum of 5 persons. Guests can also request for a cultural presentation for an additional fee.

"Aside from the being an eco-cultural tourism site, we also want promote nature preservation and culture rejuvenation. It is also an alternative livelihood for Obu-Manuvu farmers, who are resolutely committed in protecting their ancestral land," Donato shared.