AS THE number of COVID-19 cases continue to rise in the country, making sure that you have some sort of safety net in case you—knock on wood—catch the virus has become a real necessity. And while, yes, having a comprehensive insurance policy and being on the priority list of your family's life-long physician are ideal, fact is not everyone has the means for these.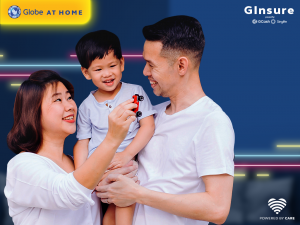 With netizens reporting six or seven figure hospital bills on top of the many struggles that come with securing hospital beds, is there something that regular Filipinos can do to sleep better at night knowing that someone's got their back in case misfortune strikes?
The good news is, there is! And it may be an unlikely solution, but Globe At Home has the answer. The company recently announced the launch of UNLI FIBER UP, its line of enhanced postpaid broadband plans that not only offer upgraded and more reliable speed but free modern essentials as well, including free medical coverage for COVID-19 and Dengue via GInsure, and subscription to telemedicine app, Konsulta MD. 
The COVID-19 and dengue insurance gives people GCash assistance medical coverage of up to PhP140,500 while the telemedicine subscription ensures that you have access to doctors for a consult, any time of the day, any day of the year. 
"UNLI FIBER UP represents Globe At Home's leveled-up commitment to help the nation win against COVID-19 and its ripple effects," shares Barbie Dapul, VP for Marketing of Globe At Home. "We continue to reinvent not just our offerings, but also how we operate in order to effectively respond to new challenges. I am proud to say that now—more than ever—Globe at Home is Powered by Care. And we shall continue to move towards that direction in the days to come."
In addition to these, Globe At Home's UNLI FIBER UP plans also come with three months subscription to streaming services, Viu Premium, HBO Go, and Amazon Prime Video.
"We understand the worries of our customers as they go through the new normal. That's why our efforts have been geared towards levelling up customer experience with proactive care at the core of everything we do. More than connectivity, we aim for reliability and consistency in our services—from application to retention—to give them the best care they deserve," says Darius Delgado, Globe VP and Head of Broadband Business. PR