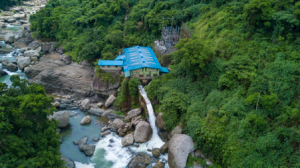 ABOITIZ Power Corporation continues to ramp up efforts to improve the performance of its renewable energy facilities across the country, especially as it pursues a greater share of RE in its capacity mix by 2030.

AboitizPower President and CEO Emmanuel V. Rubio said that while a majority of the company's RE aspirations involve building or acquiring power plants, they want to make sure their existing assets continue to serve the RE needs of the country.

"We continuously look for ways to improve the performance of our Cleanergy plants in order to achieve our availability and reliability targets. This will be an important part of our operations as we work on our goal of achieving a 50:50 balance between our Cleanergy and thermal portfolios in the next 10 years," he added.

True to this commitment, AboitizPower's run-of-river hydropower unit Hedcor logged a total generation of 182 million kilowatt-hours (kWh) for the first quarter of 2021, breaking its own forecast of 123 million kWh for the covered period.

"Aside from the favorable weather conditions, Hedcor's performance for the first quarter of 2021 is largely driven by our continued efforts to improve plant reliability," Hedcor Vice President for Operations Rolando Pacquiao said.

Hedcor has consistently hit its monthly generation targets while powering some 76,000 households, mainly attributed to the steady improvements in Hedcor's reliability performance, which includes ensuring high availability and maintaining low unplanned downtime hours.

Pacquiao said this entails continuous efforts to automate its legacy hydro plants in Luzon, as well as the integration of the Manolo Fortich Hydros in Bukidnon to the Mindanao Control Center, which will allow Hedcor to control all its plants across Mindanao from a single control room. Hedcor's automation initiatives include putting in place systems aimed at improving operational efficiency, enhancing safety by minimizing the interaction between plant operators and the various machines, as well as enabling real-time monitoring to help them stay on top of their operations.

Compared to Hedcor's first-quarter performance in the past five years, the group's daily generation percentage was at its highest and most consistent in 2021. The hydropower firm logged an average daily generation percentage of 145.41 percent versus last year's first-quarter figure of 80.99 percent.

This outstanding performance of Hedcor translates to a larger equivalent benefit that Hedcor's host communities will reap, a part of which includes educational assistance, livelihood projects, health programs, and environmental initiatives.

Amid the pandemic, Hedcor ensures to meet the energy needs of the community through clean and renewable energy. In 2020, Hedcor recorded an annual generation of 957GWh, powering around 400,000 households year-round.

AboitizPower envisions a 50:50 balance between its renewable and thermal portfolios by 2030, further growing its Cleanergy capacity along the way in an effort to help build the country's RE market and contribute to the global RE goals.

About AboitizPower

AboitizPower is the holding company for the Aboitiz Group's investments in power generation, distribution, and retail electricity services. It advances business and communities by providing reliable and ample power supply at a reasonable and competitive price, and with the least adverse effects on the environment and host communities.

The company is one of the largest power producers in the Philippines with a balanced portfolio of assets located across the country. It is a major producer of Cleanergy, its brand for clean and renewable energy with several hydroelectric, geothermal, and solar power generation facilities. It also has thermal power plants in its generation portfolio to support the baseload and peak energy demands of the country.

The company also owns distribution utilities that operate in high-growth areas in Luzon, Visayas, and Mindanao, including the second and third largest private utilities in the country.

Currently, AboitizPower, together with its partners, is the Philippines' largest owner and operator of renewable energy based on installed capacity. In the next 10 years, the company will significantly expand its Cleanergy portfolio, in support of the government's efforts to promote renewable energy in the country and as the company's contribution to the global renewable energy targets. AboitizPower is aiming for an almost 50:50 Cleanergy and thermal capacity mix by 2030.