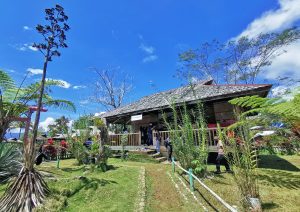 A MANDAYA community thrives peacefully in the hinterlands of Sitio Sangab, Barangay Pichon in Caraga Davao Oriental – almost untouched by time, yet led by very forward-looking leaders.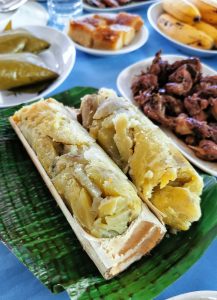 The 14,000 hectare Mandaya village in Sangab is one of the cultural communities – the first in Davao Region – included in the Certificate of Ancestral Domain Title-01 or CADT-01, issued around two decades ago by the National Commission on Indigenous People's. The CADT-01 afforded cultural groups autonomy over their ancestral territories.

During our recent visit with Department of Tourism Xl team led by director Tanya Rabat Tan along with the Caraga Tourism Team led by tourism officer Ferdinand Baldonado, we met their tribal chieftain, the young, and valiant Christine "Kring-kring" Banugan, who, together with her equally tenacious sister Daisy Jane Banugan, leads in safeguarding their domain and keeping the peace within their community.

Chieftain Kring-kring, who bravely faced and stood up for truth during an indigenous peoples forum in San Francisco, USA in 2019, shared to us that whenever they need advice and age-old wisdom, they would still confer with their tribal "magkatadong" or council of elders.

Perhaps, one of the most haunting part of our trip was when we witnessed a hallowed ritual led by their elders and a "balyan" (local shaman) inside their "baka l'lag", a place where they render traditional ceremonies.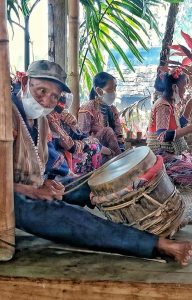 From start to finish, the ritual was accompanied by the playing of a percussion instrument called "gimbao" by a male elder as the "balyan" summoned the spirits. Later, we learned that music actually plays an indispensable part in Mandaya culture as it is crucial in every celebration and gathering.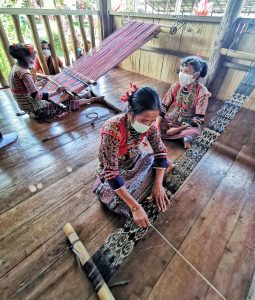 After the ritual, we took a quick tour of the "bal'lay sang momutaw" or "tourism house", where the female members of the community showcased their skills in creating crafts and accessories, intricate beading and embroidery of their traditional attires, and weaving of their famous "dagmay" fabric. Aesthetics and arts truly rank high for the Mandayas.

Aside from the "tourism house", we also observed other functional structures in the village, such as the Banwa ng Sangab, Mannadu, and Panlaisan, that surround the main hall.

Our brief visit wouldn't be complete without sampling traditional fares, such as L'lulot, Yombol'l, and pako, and they are truly worth going back for.


In Sangab, we were able to witness not only how each member of the tribe continue to uphold their customary ways of life but also how their elders keep the younger generation engaged with their endeavors. These dynamics have enabled them to keep their culture alive and most importantly, allowed it to flourish and become templates for other communities to emulate.

Our trip to this far-flung Mandaya community (from Poblacion Caraga, it is still a bumpy, 3-hour drive up in the boondocks) was certainly not a walk in the park but the reward of getting there was simply priceless.

It showed us that the Mandaya tribe have one of the richest cultural heritage among our indigenous groups. Most importantly, it showcased that their community in Sangab exemplifies a genuine cultural community: self-sustainable, self governed, a place beaming with pride and respect, and one that never succumbs to the dictates of the outlanders.