Everyday staycation, that's what Legacy Leisure Residences is about. Your address is the destination with world-class amenities. An Olympic size pool, a water spray park, outdoor sports facilities, a green oasis with putting green, and many more spread across a wide open area occupying 70% the property. This alone sets this vertical village apart from the rest.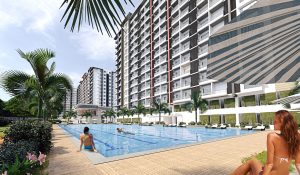 As the first of four tower rises, all you can do at this time is imagine what it's like living in a place with all the deluxe facilities right at your doorstep. But what if Legacy Leisure can snap you out of your daydreaming and let you live the future now?
You can have a peek of your "everyday staycation" at Holiday Oceanview Serviced Residences in Samal.
The island resort is the sister company of Legacy Leisure and geared towards the same concept of luxury living. In the mixed-use community is a residential setting, which includes a condominium with recreational amenities you would expect. This is where the similarities between the two starts.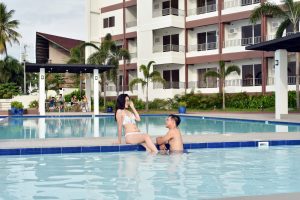 A spacious, relaxing environment and privacy is shared by both properties.
The gated condominium complex of Legacy Leisure is ensconced in a 2.4-hectare property by a creek. Only four buildings will be erected to use less than 30% of the area, the rest will be allotted to open space. The living areas will have a view either of the Davao Gulf and the majestic Mt. Apo. Its may be in the city but with the resort-like vibe, you'll never feel that it is.
Holiday Oceanview sits in a large seaside gated property. The development follows the terrain that slopes gradually from the verdant mountain side to |the shore. It's living with nature — the sun, sea and mountain, with the conveniences of modern living.
How about enjoying the "firsts in Davao"?