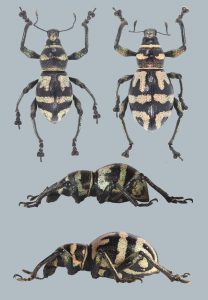 RESEARCHERS from the University of Mindanao's Coleoptera Research Center have named a new and 'rare' species of beetle after the city of Davao and published their findings in reputable scientific journals.
It is dubbed Metapocyrtus (Orthocyrtus) davaoensis and discovered during an expedition under the "Urban Biodiversity Research and Conservation of Davao City" project by UM's Dr. Analyn Cabras, Dr. Milton Norman Medina, and their partner researcher, Dr. Maurizio Bollino.
The project is funded by the Commission on Higher Education's DARETO program. The new species is set apart from the rest of its congeners, or beetles in its same category; by the unique patterns of its body.
Metapocyrtus (Orthocyrtus) davaoensis is considered a rare find as it is a species of beetle which has managed to survive in the rapidly dwindling green spaces of Calinan.
"It is often not a surprise to find new species in heavily forested areas, but disturbed and farmed areas are often not the best place for discovery of new species," said Dr. Cabras in a statement regarding their discovery.
The discovery of this new species in the heart of the urban jungle of the city reiterates two important points, according to the team: first is the lack of scientific studies on insects; especially beetles, even as new species are being discovered in urban areas. Second is the immediate need to conserve the remaining green spaces of Davao city which is one of the main objectives of the Urban Biodiversity Research and Conservation of Davao City project led by Dr. Medina.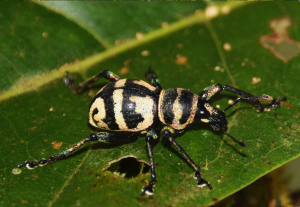 Beetles, and all endemic creatures for that matter, are important indicators of the health of an ecosystem.
The researchers hope that through this discovery, it will bring to the attention of local government policymakers that supporting basic research in biodiversity and the conservation of the remaining green spaces of the city are priority matters.
Discovering new species of beetles adding to the country's rich biodiversity is not new to the Coleoptera Research Center and UM's Research and Publication Center; which has been publishing their findings of new species of beetles since 2016, including Metapocyrtus willietorresi, a new beetle specie named after UM's president Dr. Guillermo P. Torres Jr, and as well as the discovery and publishing in scientific journals of Hoya indaysarae, a new flower species named after Davao city Mayor "Inday" Sara Duterte-Carpio.