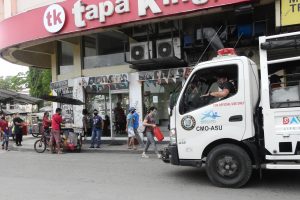 THE city government has assigned another public school to become the third vaccination hub starting Tuesday.

The Buhangin Elementary School, said Dr. Josephine Villafuerte, City Vaccination Cluster head, will be used in inoculating members of the Barangay Health Emergency Response Teams (BHERTS).

The other schools are the A. Mabini Elementary School and Magallanes Elementary School.

"On the first two days, the hub will be catering (to) BHERTS assigned in district health centers from the first and second congressional districts," said Villafuerte.

She added that district health officers have been instructed to inform the barangays from the two districts to send eight eight actively working BHERTs at the vaccination hub.

BHERTs from the second congressional district are scheduled to receive their anti-Covid jabs onTuesday, while those from the first congressional district will be inoculated the following day.

Villafuerte, however, the did not mention the schedule for those from the third district.

These village health workers are among those identified as part of the Priority Group A1 for Covid-19 vaccination.

The city government has been vaccinating those health workers in public hospitals and other similar health facilities and private hospitals particularly those designated as COVID-19 facilities.

Next to get inoculated are the elderly, or those who are 60 or above.