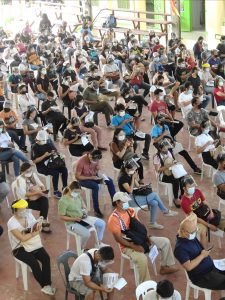 THE CITY government is mulling an executive order for businesses to adopt a remote work arrangement, enabling employees who tested positive for COVID-19 to work at the isolation facilities.

"Dapat ang employee na mapasulod sa isolation tungod kay positive siya, considered na siya as work from home. So, dapat with pay gihapon na sya. Dapat andam ang atoang mga employers nga maghatag og trabaho sa ilahang mga employees nga kung ugaling naay mag-positive sa ilahang employees unya kinahanglan ma-isolate. And able ang employee because asymptomatic dinha sa atoang TTMF and can work online, so dapat naa gihapon siyay deliverables sa iyang gina-trabahuan (A work from home should be considered for the employee who will isolate because they are positive and be paid. Employers should be prepared to give their employees work if ever one of their employees turns out positive and need to isolate. If asymptomatic employees can work in our TTMF and can work online, they should still submit their deliverables to their office, and they will be considered work from home)," she said.

The mayor said that it will be beneficial for employers and business owners to encourage their employees to take the test to save their establishment from a possible lockdown.

The mayor has recently set guidelines for the heightened surveillance of influenza-like illness through Executive Order No. 18, which includes surveillance swabbing in offices and establishments without implementing mandatory home quarantine post-swabbing.

Also, on April 6, Executive Order No. 20 was signed, requiring mandatory swabbing for F1, F2, and F3 contacts of a confirmed Covid case.

She clarified that F2 and F3 contacts will not be required to undergo quarantine in the facility while waiting for their result, only those who are F1 or close contacts of a COVID case.

"The only time na kuhaon mo [F2 and F3 for isolation] is kung mag positive mo. Sunduon sila and i-assign sila og facility unya 10 days sila didto (The only time that they [F2 and F3 will be taken for isolation] is if they are positive. They will be fetched and assigned to a facility where they will stay for 10 days). After 10 days, four days home quarantine," she said.

Meanwhile, he assured quarantined individuals that they would automatically receive food packs from the City Social Welfare and Development Office.

"Automatic ang house lockdown ana, so automatic pud ang paghatod sa CSWDO sa mga grocery packs," she said (House lockdown is automatic, and, automatically they will also get grocery packs from the CSWDO)," she said.

And in response to requests of including fresh produce in the food assistance, the mayor also instructed the City Veterinarian's Office and City Agriculturist Office to prepare accordingly.

"Atoang gi-instruct sa atoang City Veterinarian's Office ug City Agriculturist Office to prepare fresh food packs. Mao na ilahang gina-asikaso karon, naga-prepare sila ug lockdown fresh food packs nga gulay ug meat (We instructed the City Veterinarian's Office and City Agriculturist Office to prepare fresh food packs. That is what they're preparing now – fresh vegetables and meat for those under lockdown)," she said.