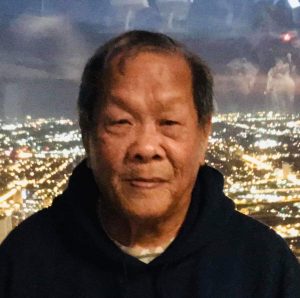 (NOTE: This article was published in my column on April 15, 1993, on the occasion of our (25 years) silver wedding anniversary. Today, April 15, 2021, a reproduction of the same is again appearing in this corner on our 53rd wedding anniversary and in memory of my wife, Virgie who died on Nov. 9, 2014).
"Ganito kami noon, 25 years ago.
"Virginia M. Milan and Loreto D. Tinitigan will be married on Monday, April 15 at 6 o'clock in the evening at the Assumption Church on F. Torres Street, this city. Fr. Conrad Lafortune, PME, will be the officiating priest. She will be given in marriage by her father.
"The principal sponsors are BTTI regional coordinator Pedro R. Lavina, Atty. Jose O. Libron, Mrs. Josefina C. San Pedro, and Mrs. Juliet Decadez.
"Secondary sponsors will be:
Jesus G. Dureza, bestman; Carmelita Palanca, bridesmaid; Nenita Yap, maid of honor; Helen Paderayon, veil; Soledad Ecle, cord; Nelie Burgos, candle; Caloy San Pedro, ring and coin bearer; Rosella Bonsubre, flower girl; and Thomie Gonzaga will sing the wedding march.
"The bride-elect holds a BSEED degree from the IHC and presently employed at the office of Councilor Cipriano Villafuerte of the city council. She is the daughter of Mr. and Mrs. Juan T. Milan of Balamban, Cebu.
"The prospective bridegroom is connected with the Mindanao Publishers, Inc. He is the son of Mr. and Mrs. Julio O. Tinitigan of Pasay City and Cavite.
"Reception will follow immediately at the Men Seng Restaurant along San Pedro Street.
"Today, April 15, 1993, after 25 years of almost perfect blissful connubial life, I said "almost perfect" because the moon and stars I'd promised to offer to my bride never materialized. Virgie sums up in one word the 25 years we were living under one roof and sleeping in one bedroom. She said she's happy.
With three professional children, all of the boys and a girl, now on her sophomore year at the PWC, a simple but happy family living together, my promise to Virgie when we made our vows on April 15, 1968, at the Assumption Church to "… take thee for you are, with what I am, with what I have all the blessings we shall share all the trials we shall face together Life by our own has ended and so has mine for our life has just begun You and me as "One", I believe that I am not a failure.
"On this day of our Silver Wedding Anniversary we decided not to make a formal renewal of vows but instead we will offer a Thanksgiving Mass this morning at the same church where we made our vows 25 years ago.
"Virgie and I have agreed that our renewal of vows will be on our Golden Anniversary (50 years) which will be 25 years from now. (Unfortunately, Virgie didn't make it to our Golden Years. She passed away at the age of 72 on Nov. 9, 2014-LDT).
"Of interest to those who want to know what happened to some of the principal characters included in our entourage when we got married 25 years ago, Virgie is still with the city council as a Legislative Supervising Officer. Her bridegroom is now the managing editor of this paper.
"Our principal sponsors, BTTI regional coordinator (Now Department of Tourism) Pedro R. Lavina died on November 10, 1987; Atty. Jose O. Libron has retired as DOLE Arbitration Officer (Deceased); Mrs. Josefina C. San Pedro has also retired as director of Public Information Agency (Deceased); and Mrs. Juliet Decadez, who like Lavina, died a few years back. May they rest in peace.
"My best man, Jesus G. Dureza now a lawyer, is our Representative for the First District; and the rest of the secondary sponsors got married and have their families. (Except for Pare Jess who is now the TIMES publisher, we no longer heard of the rest since then –LDT).
"Fr. Conrad Lafortune is still very active and the latest information we got is that the good priest is now the Chaplin of the San Pedro Hospital." (He too passed away a few years back – LDT).
To my readers, I'm now in the dim light between total darkness and sunrise but I have nothing to regret in all my years of existence as I believe that I've already done my best for my family, country, and to the people whose lives I've touched for many years.
I will not say adieu in this corner. Not yet, for as long as this 80-year-old is still physically and mentally capable of moving on his own and continues to believe in the saying: "I may be retired, but not tired."
God be with us always!