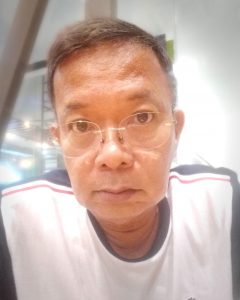 LONG AGO in the mid-90s when mom was still around, she and my aunt owned a boutique located beside a neat row of ukay-ukay stores along (you guessed it) Ponciano Street. Once in a while, whenever neighbors advised her that new stocks had arrived, she would happily come right on over. Literally.
To the delight of the tinderas there, my mom would reportedly, on occasion, unashamedly "plunge" into those huge square bins filled with relief clothes, sometimes with both feet dangling, just to look for whatever piece of dress she fancied.

I had not been aware of these until one day when I visited them at the store. Two sales ladies from next door had whispered to me in both delight and wonderment, "Yan si mam? Mo-dive gyud na sya (Your mom? She'd dive without a care.)"

Apparently, the lone image of a supposed prim-and-proper, bespectacled old lady (and uni professor at that) flinging her frail body straight into a heap of ukay-ukay, like a lithe athlete, proved to be a wholesome source of awe and entertainment for the two ladies.
It's almost like experiencing the same feeling when you witness kids jumping straight into a mud puddle or them disappearing into a huge pile of leaves one had recently raked, as in the old days. That without-a-care attitude, though, is the kind that I relate to. Not to be taken in as a quirk or an oddity, mind you, but as an innocently childlike and admirable asset in anyone.

In much the same way, I could likewise attest that in other aspects of her life, the most noticeable trait, like the one showcased in those ukay-ukay episodes, had been her innate ability to be a maverick in the most glorious manner, always.
She could get a perfect ten score for her abject prowess to love boldly, second only to none. One could say, she dove head-first at loving fiercely, especially family, children, and apos. Directly put, in this realm, handling love may have been like she treated her ukay: devil-may-care, straightaway, and no roundabouts on sight.

Sadly now, in retrospect, there might be a grain of truth in the saying that the fruit doesn't fall far from the tree. (Pun intended) Like dear mum, no less than our late Kuya Bong had that same dive-lang, in your face, no worries gene. Imagine his son and daughters, not to mention the grandchildren who were in the direct line of fire, having to put up with his daily dosage of doting? But there's no overloading in love.

Now, to unexpectedly have that rich source of loving abruptly taken away, may naturally seem to be unfair at first, but like always, there has got to be reasons for everything. One reason might as well be as old as the earth itself. For all life to flourish, one has to indeed love boldly, as they had both once did, without any compromise. And we are the fruit.

Or perhaps they may have been the bearer of lessons already taken in, with some still asleep in the unborn amongst us. Third, who knows, it may be the main intention that should be passed from one generation to the next, a hidden mickey of sorts. So, pass this along: love boldly, dive lang.