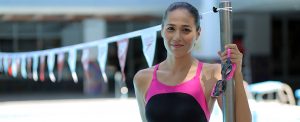 Philippine swimming icon Akiko Thomson-Guevara dives into the "Role of Philippine Olympians in furthering Philippine Sports" in session 9 of the Philippine Sports Commission's (PSC) National Sports Summit 2021 this Wednesday, April 14.
The three-time Olympian and eight-time Southeast Asian Games (SEA Games) gold medalist explores the ongoing efforts of the Philippine Olympians Association, an organization founded in 2002, to provide opportunities through sports for the Filipino youth.
Thomson-Guevara, elected as president of the body composed of fellow Filipino Olympians and has been leading it since 2015, also shares "how to optimize the asset of the Filipino Olympian to play a meaningful role in the realm of Philippine sports."
"Her stellar career as part of the Miracle of 1991 and as an Olympian, and further using her platform as the head of their organization will truly inspire our participants in the pursuit of improving Philippine sports," expressed PSC Chairman William Ramirez.
The swimming icon has had a history of promoting Philippine sports and Olympism through participating as a volunteer in the Athens Summer Olympic Games in 2004 and serving as assistant coach of the national swimming team in the 1997 SEA Games and 2000 Sydney Summer Olympic Games.
She also served as one of PSC's Commissioners from 2010-2016.
The National Sports Summit 2021 is a countrywide online conference covering key sports concepts from the local scene up to international linkages. (PR)