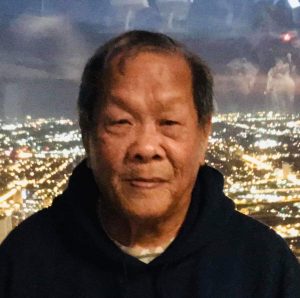 OUR FIRST-ever out-of-town trip to the municipality of Governor Generoso in Davao Oriental after the Holy Week has become a learning experience since we only read the history of the town in books. Now, we personally visited the popular Parola (lighthouse) at the southern tip of Davao Oriental.

Gov. Generoso, a second-class coastal municipality, is formerly known as Sigaboy.
It is about 1 hour and 30 minutes by car of well-paved coastal roads from the intersection of the national road to the southern tip of Davao Oriental and 201 kilometers from Davao City. Mati City, also in Davao Oriental, is 155 kilometers from Davao City.

Last time we visited Mati was three years ago upon the invitation of the Maypa family.
Unknown to many Dabawenyos, the "Run, Sara, Run" tarpaulins posted in major thoroughfares in the city by Mayor Inday Sara's political supporters endorsing her to run for President in 2022 are not only visible in Davao City but as far as the national highways, towns, municipalities, and barangays we passed by on the way to our destination.

To my mind, after seeing all these, I'm now convinced that our mayor is really destined to inherit her father's throne in Malacanang despite her repeated denial of not eyeing the highest post in the land.
The incumbent representative is Joel Mayo Z. Almario. The Almario clan seems to dominate the whole of Governor Generoso as their name appears like markers in every corner of this coastal side of Davao Oriental. The population is 55,109 based on the 2015 census.

Mayor Tina Yu of San Isidro, a separate third-class municipality along the way was a former writer of the TIMES in the 80s. Like our mayor and now President Duterte, Tina is undefeated and serves her constituents for many years now.

We dropped by the office to see her more than 40 years after she stopped writing. Unfortunately, we didn't see each other as she was at the time in Davao City attending to important matters.

The Lighthouse, popularly called 'Parola' is in Cape San Agustin and about a 30-minute drive from Camp Bernardino de Lavigan, a first class resort where we stayed for two nights and three days. The Parola is now one of the popular tourist spots and landmarks in Davao Oriental that dates back to 1938.

Frankly, the reason why I visited Cape San Agustin was not for Parola's structure and its contribution in helping Filipino-American defenders in defeating invading Japanese warships then entering the coastal waters of Davao Oriental but for my real intention – which is fishing.

Cape San Agustin is an ecological wonder in itself. It is home to different marine species and favorite fishing grounds of commercial fishermen and hobbyists like us.

The old Timesmen of the first generation used to fish near the Parola but never went inland. They stayed overnight in their hired pump-boat while fishing. There were times that they went home empty-handed without a single catch, but most of the time two to three of the group brought home with them tuna or tangigue weighing about 30 to 40-kilo each, aside from lapu-lapu or talakitok and other marine life abundant in the area. I was not with the TIMES then.

That is why these outdoor fishing and camping with youngest son Jin Lorenz, eldest son Jojo, wife Maricar, and their only son Jacob and his Yaya last April 7, 8, and 9 was an experience for me.
Unfortunately, while Jin Lorenz, Maricar, and the Yaya were able to experience climbing the oldest Parola that was built in 1938, standing about 50 feet from the ground, and offers a stunning panoramic view of the Celebes Sea and the Gulf of Davao and witness the breathtaking, almost postcard-like view of the Sunset in the horizon and the stunning stretch of beach surrounded by lush vegetation, this senior citizen and my 9-year-old apo were not able to make it inside because of the existing COVID-19 protocols. Jojo stayed with us outside of the compound. Malulula lang daw siya.

Our planned fishing in Cape San Agustin on our second day did not push through as the weather that morning, according to our veteran fishing guide, was not good for a fishing trip. Instead, we contented ourselves fishing in the knee-deep seawater fronting our camp tent. As usual, no single fish showed up. Mabuti pa sa palengke may isda!

Although we went home a bit disappointed for not having even a single catch, the Punong restaurant along the national highway in Tagum City that serves fresh-catch alimango and tilapia, at least saved the day for us with a hearty lunch.