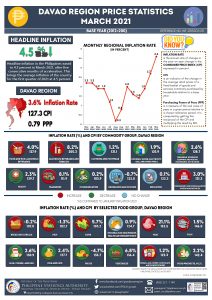 Davao Region's year-on-year regional inflation has boosted further to 3.6 percent in March 2021. This is the highest inflation reported since May 2019 (3.7%). The current inflation was significantly higher as compared to the previous month at 2.7 percent, and of the same month of the previous year at 2.2 percent. Meanwhile, the purchasing power of the peso (PPP) which measures the real value of the peso in a given period relative to a chosen reference period remained at 79 centavos.
The region's inflation was mainly affected by the higher annual increment in the index of Transport from 4.5 percent to 8.1 percent (see Table 2). Other commodity groups that contributed to the upward trend of inflation in March were the following:
• Food and Non-Alcoholic Beverages, at 4.0 percent from 2.8 percent;
• Alcoholic Beverages and Tobacco, at 8.2 percent from 7.1 percent; and
• Restaurant and Miscellaneous Goods and Services; at 3.0 percent from 2.7 percent.
On the other hand, the index of Housing, Water, Electricity, Gas, and Other Fuels slowed down at 1.9 percent from 2.6 percent. Meanwhile, the inflation of Clothing and Footwear, Education, and Recreation and Culture retained its previous rate at 1.2 percent, 0.1 percent, and -0.7 percent, respectively.
Inflation for food index were notably higher specifically for Fish which boosted to 1.5 percent from -4.0 percent in the previous month. Furthermore, faster annual increases were also observed in the indices of Meat (21.1% from 18.7%) and Corn (5.7% from 1.9%). On the contrary, annual increments for the indices of Fruits and Vegetables slow down at -4.7 percent and 6.8 percent, respectively.
The headline inflation in the country slightly dropped to 4.5 percent in March 2021. Among the 17 administrative regions, Bicol Region had the highest inflation at 8.0 percent, while Central Visayas remained to have the lowest inflation at 1.5 percent.