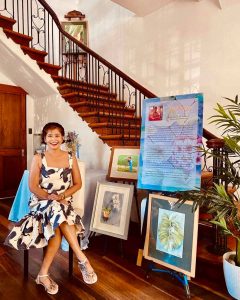 BANG, as Vanessa Ann Patino-Ong is known to people close to her, arrived fresh faced, tanned and glowing from a recent beach trip with her family.
It was last Easter Sunday when her family, relatives and friends showed up at the Bondi & Burke to lend their support to the artist who was launching her first ever solo painting exhibition (from April 4-18) called "My Healing Journey."
Being a cancer survivor, Vanessa will be donating the proceeds from her sold artworks to the House of Hope, the home of children with cancer.
The first time I met this shy but charming daughter of Ernesto and Editha Patino was decades ago when Vanessa was working out at the Regal Hotel's gym which I also patronized.
I mistook her for a model then being courted by the equally striking Chinoy hunk named Randall Ong. The good-looking couple eventually got married and now have three lovely kids namely Zoe, Caelie and Isobel.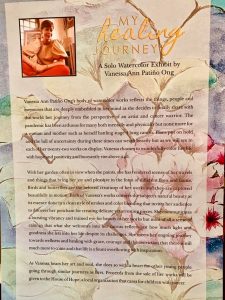 The BFA Interior Design graduate of the University of San Carlos (Talamban, Cebu) has always been dabbling in watercolor painting. Her other interests include styling tablescapes, ikebana flower arranging, cooking and baking. Oh yes, this lovely multitasking woman is also one disciplined and devoted yoga practitioner while earning her keep as designer at the furniture department of RJ Homes, The Appliance Plaza, which is owned and managed by her husband's family.
"It was actually my mom's brother, Dennis Julio Tan, who ignited my leanings towards the arts since he was then studying architecture and later joined the Bayanihan Dance Troupe. My dad is also artistic such that I was encouraged to take drawing lessons since I was young.
I was more interested in becoming an interior decorator though that I never entertained thoughts of becoming a visual artist," narrated the debuting visual artist as she added, "I am an admirer of the works of internationally renowned master watercolorists like Jean Haines and Alvaro Castagnet. Among Filipino artists, I like the works of famous visual artistes like Lydia Vellasco, Elmer Borlongan, Ramon Cusi, Norma Belleza, Orley Ypon, among others.
Of course, there is also my multi-awarded artist mentor here in Davao City, Lito Pepito, who I truly respect."
Vanessa is partial to painting such subjects like flora and fauna, her ikebana arrangements, landscapes, and scenes from photos taken of her travels to various interesting places.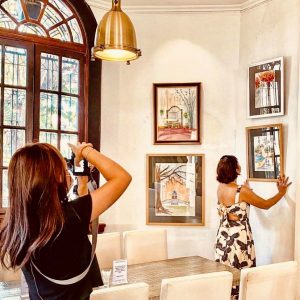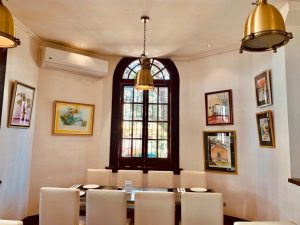 "I use watercolor as it is the medium I got used to while doing our assigned plates when I was still in college. As a cancer survivor, it is also a safe medium for me to use." Do take note that Vanessa's favored watercolor is one hard medium to master because it is unforgiving and unpredictable.
Being once an architecture student myself who had to submit plates of perspective drawings of buildings colored in watercolor, it is, indeed, difficult to correct mistakes owing to the fluid nature of watercolor which is hard to control.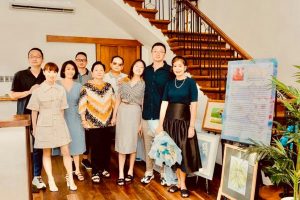 There is a sense of calm and serenity depicted in the various artworks of Vanessa hanging on the immaculate white walls of Bondi and Burke. Perhaps, this is the essence of her maturing personality and current dealings with the condition of the world we live in.
Viewing her artworks seems to include her channeled message of one who has become enlightened and awakened to oversee the safety and spiritual direction of Mother Earth and the people who inhabit it. Contemplating on Vanessa's artworks can truly clear negative energy out of a person.
"Art is my lifestyle which I find in my daily activities. I teach and encourage my daughters to involve themselves in whatever art form interests them. Along with my loving and caring husband, we all support each other in this family endeavor," professed Vanessa.