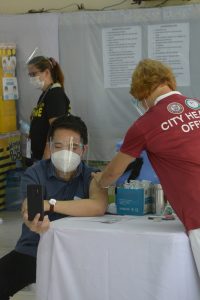 THE city government is setting up more COVID-19 isolation centers and temporary treatment and monitoring facilities (TTMFs), said Dr. Ashley Lopez, acting City Health Office head, on Wednesday.
.
Lopez said these additional facilities are needed in preparation for more cases in the city as the fund to put them up came from the national government.

"This is part of the Bayanihan 2 Act fund that was allocated by the Department of Health to Davao City. Naay gi-allocate ang DOH sa Davao which is around P30 million and ang required kay structural, kinahanglan magbuhat ta'g structural TTMF," Lopez said.

He said Mayor Sara Duterte recommended that these facilities, which would get about P10 million each in setting up, be located in Tibungco in Bunawan District, Malabog in Paquibato District, and in Marilog District.

The facilities, which would provide 27 beds each, will also serve as catch areas for far-flung communities especially for those without isolation facilities.

"Mag-set up tag TTMFs didto kay so far wala tay TTMFs didto. What we utilize as an isolation unit and quarantine unit is kadtong mga eskwelahan didto sa Malabog Elementary School ug Malabog National High School. Kung mabuhatan sa syag TTMF mao na na sya for our Paquibato District," he said.

Under the recommendation of the mayor, each room must have a bathroom with a single occupant, unlike the existing facilities which are open type with at most four occupants per room.

He added that these facilities will also serve their purpose if the city experiences the surge in cases.

"The mayor wants to heads up tanan para ato na gyung ma-set up. Isa pud na sa tabang nga mabuhat nato in case naa'y surge mahitabo sa Davao," Lopez said.

At present, he said, the city has enough isolation facilities, but the city government does not want to leave any stone unturned in its fight against the virus.

"Mao ni atong anticipation sa Davao. We have to maximize everything. We have to prepare everything ilabina sa pag-accommodate sa atong mga pasyente sa isolation and quarantine areas," Lopez emphasized.