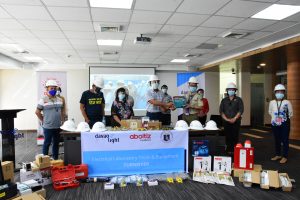 Recognizing the importance of public-private partnerships for the development of the education sector, Davao Light and Power Co., Inc. and its social development arm, Aboitiz Foundation, Inc. recently turned over electrical tools and equipment to five (5) public high schools in Davao City.
Dubbed as e.Lab Plus, the project further expands the electrical laboratories (e.Lab) that Davao Light turned over to public high schools in its franchise area since 2014. The refurbished electrical laboratories are already equipped with the necessary tools and equipment. Now with the Project e.Lab Plus launched in 2017, the company adds more tools and equipment needed by students of the Electrical Installation and Maintenance (EIM) Course under the Technical-Vocational (TechVoc) Program in senior high schools.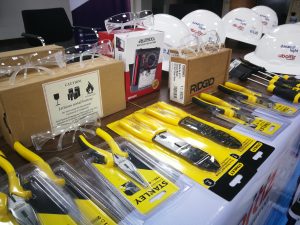 "We are here to deliver a commitment to continue to support DepEd in its Technical-Vocational Program," said Rodger Velasco, President and COO of Davao Light, during the turnover last March 26 at the company's admin office in C. Bangoy Sr. Street, Davao City. "Although students are still in the homes for modular learning, we are providing these electrical tools and equipment in preparation for the face-to-face or blended learning," added Velasco.
Aside from basic electrical tools and personal protective equipment such as hard hats and leather gloves, the company also provided items for the installation of fire alarm and CCTV systems, motion sensors, and telephone intercom. The recipients of these items are Doña Carmen Denia National High School, Mintal Comprehensive National High School, Tacunan National High School, Talomo National High School and Teofilo V. Fernandez National High School.
Davao Light will also conduct a Project e.Lab Plus turnover to three (3) public high schools in Davao del Norte within the year. To date, the company has already set up a total of 39 electrical laboratories within its franchise area.