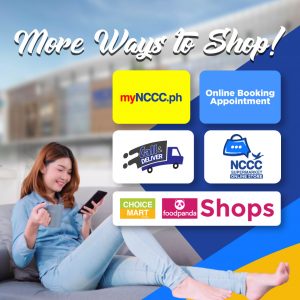 With the still rising cases of Covid19, more and more people are leaning towards online shopping as it is highly advised to stay at home.
Fortunately, NCCC offers a number of ways for a hassle-free shopping and delivery services. Customers may choose from among these platforms – mynccc.ph, Food Panda, NCCC Malls shopping assistant, and NCCC grocer-ring.
Launched last November 7, 2020, the mynccc.ph shopping website offers a wide range of products from your daily needs at NCCC Supermarket, to home essentials at NCCC Department Store, DIY improvements at NCCC Hardwaremaxx, and basic health requirements from HB1 Pharmacy. Payment can be through Cash-On-Delivery (COD), Bank Transfers, and Paymaya.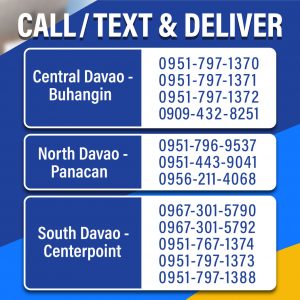 Shoppers may also opt to order their groceries through Food Panda Shops as Choice Mart by NCCC is already available beginning January of this year.
Meanwhile, necessities may be purchased via NCCC grocer-ring through text, call, pick-up, and deliver with branches including Centerpoint, Panacan, and Mall Buhangin. Ordering may also be done by sending a message at facebook.com/ncccgrocerring.
Additionally, NCCC Malls offer shopping assistant wherein customers can order food or items from their favorite shops inside the mall simple by messaging facebook.com/ncccmallshoppingassistant. Ordering from multiple shops in one delivery is allowed, fee starts at P59 for the first four (4) kilometers. Pick up at curbside parking is also available.
Through these various e-commerce servicing, NCCC aims to bring better and safer options for its customers during this pandemic