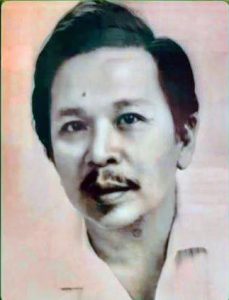 "GUINO-O KO!" I uttered silently to myself when I was told by dear Lena Benedicto that tito Boy was hospitalized that fateful day of March 18. We were then buying some delights at Erwin Tan's Adela's bakeshop and we got to talk about tito Boy.
I told Lena and Erwin that a week earlier, I had called tito Boy's ever dutiful Girl Friday, Celine Sordilla, and asked how her Manong Boy was doing. Celine told me he was doing alright after taking some stem cell medication that was supposed "to find injured cells and tissues in the body and initiate a healing process by themselves."
That same morning without knowing that tito Boy was hospitalized, I posted on facebook our pictures with tito Boy when we had merienda cena a few months back. That was the last time I saw him in his strict observance of the "Stay At Home" protocol we are subjected to in this risky time of the Covid epidemic.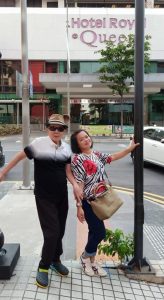 It was just a few hours after reaching home when I read Joji Ilagan-Bian's urgent message to me: "Today, I lost a father, mother, best friend, travel and shopping buddy, a personal fashion designer, and so much more. Today, I lost a part of myself. My mind is so numb right now…"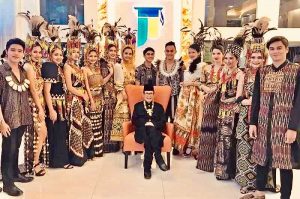 I could only imagine how it must have been for dear Joji. She was forever the doting "daughter" tito Boy was fortunate to have had in his life. "Tito Boy was always present in my family's important milestones that we always considered him a part of the family," Nicole Bian-Ledesma disclosed.
Alfonso "Boy" Laud Guino-o was Davao's only sovereign fashion designer for five generations of Davaoenas. He was definitely the most celebrated and written about personality of his generation. He was also among the best dressed citizens of Davao City for more than half a century who never failed to enthrall and mesmerize ordinary mortals with his own brand of glamour style. Tito Boy was definitely Davao's legendary fashion icon that no one dares to raise an eyebrow to that proclamation! He was one Renaissance Man who was hard to match.
"If ever there will be a study in the evolution and dynamics of Davao City's fashion industry, it is certain that there is one name that will keep coming up and be mentioned with much respect….signifying that he is a major force in our rich fashion history. The name is Alfonso Guino-o…," wrote popular fashion designer Bobby Castillo of his maestro de moda.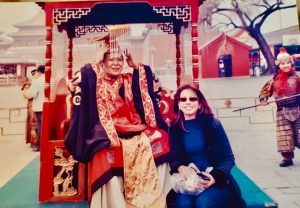 In recognition of his staunch support in his exemplary dedication to preserve Mindanao's rich fabrics of life and fashion; and his strong support for Mindanao's aging traditional weavers, Davao City's Datu Bago Award was conferred to this mighty veteran designer in 2004.
Tito Boy was born on Valentine's Day of 1934 to Negrense parents from Silay City namely Vicente and Teofila Guino-o. He was the youngest of the couple's eight children. His father was a hardworking businessman who owned and operated a hotel, funeral parlor, bus service, and farms; while his doting mother was a good panguigue card game player who later became a favorite model for tito Boy's earliest terno creations. It was in 1956 when the young Alfonso "Boy" Laud Guino-o opened a small dress shop in Davao City.
In 1958 to 1962, being well trained as well in the city's pioneering Locsin Ballet Studio of maestra Carmen Dakudao-Locsin, tito Boy travelled as an official member of the Bayanihan Dance Troupe to Europe and the United States of America. It was thus that tito Boy crossed different creative worlds ever since.
He clearly saw something to improve upon that he spent the last decades of his life combining art, dance, music and fashion into a daring multi-disciplinary practice; and became one of the most influential experts in the field of Mindanaoan arts and culture.
He was continually pushing boundaries to reach both Filipino and foreign fashionistas all over the globe. He once revealed, "All my clients are fascinating women. They have their own style, their own personality, and their distinctive elegance. They want explosive fashion.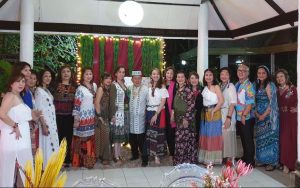 My fashion is always a celebration of the female's form, confidence and sexy allure. This isn't just a job for me—it is my passion, an obsession. I love what I do and I love the craft of dressmaking. I want to celebrate our Mindanaoan traditions and at the same time, innovate as I push forward the boundaries. I feel proud and happy whenever I'd have fashion shows abroad to represent the Philippines, specifically Mindanao."
The overriding theme of Guino-o's fashion had always been on the richness of Mindanao's indigenous people's culture. His fashion designs reflected the influence of the various tribal groups which he compiled and synthesized, as in fusion fashion, to a point that it became sophisticated.
"As compared to the tribal costumes of the other regions of the country, Mindanao's tribal wears are more outstanding in terms of their varied colors, textures, magnificent hand-woven fabrics of life, and such regal designs. They'll standout from the rest," he once professed. Definitely, Guino-o's fashion always took a patriotic slant since his Bayanihan interlude.
The esteemed National Artist Lucresia Kasilag once told me, "Despite the passing of time and the distance which separated us, Boy Guino-o never forgot me. He is such a good-hearted person who would generously send me his beautiful Filipiniana creations, which I would always wear with pride especially to our Bayanihan reunions. You don't forget a true friend like Boy Guino-o."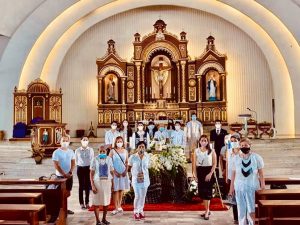 "My goal and my determination is to make women beautiful and glamorous. I never tire of dressing up women to make them desirable and fashionable. On the other hand, it is the husband's responsibility to undress the woman!" tito Boy once declared.
Tito Boy's fashion was definitely for the woman who wanted to make the "Who is that?" entrance. And immediately, Joji Ilagan-Bian, tito Boy's favorite fashion muse comes to mind as he reasoned, "Dress her in opulent fabrics, tribal weaves, rich detailing of colorful beadworks of coconut shell, mother-of-pearl, capiz and brass, and Joji will always come out wearing the outfit with such elegance.
Embellish her gown with ostrich feathers, bundled horsehair or even simple feathers from a sabungero's cock, and she'll appear looking sophisticated." Then he whispered coyly to me, "Te man, kay si palangga biga-on man na, toto." Yes, tito Boy and his palangga Joji shared such a special bond which once prompted tito Boy's other beloved, Baby M. Montemayor, to comment,
"The charming Joji is always ever ready to empower and promote the elderly interests of tito Boy to make his life more enjoyable…" And so did tito Boy's Girl Friday for all seasons, Celine Sordilla, who, in health and in sickness, in good times and bad times, took care ever so lovingly of her Manong Boy for 25 long years.
You will always remain in our hearts, tito Boy. May you rest now in everlasting peace with the Lord Almighty in His kingdom. Thank you for all that has been.