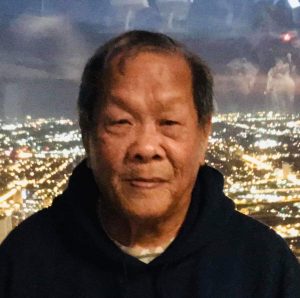 WHEN my family was still in the old house in a subdivision in Matina in 1996, we had 3 sets of iridescent sharks with sizes as big as a child's fingers. I bought them from a pet shop in Sta. Ana together with a 1.5ft x 2ft x 4ft aquarium that can accommodate 60 gallons of fresh water.
To readers, the word 'shark' on its own is enough to bring fear. The fear is not on this freshwater iridescent shark, known as the Siamese shark or sutchi catfish native to Southeast Asia and Thailand.
I named them A,B,C,D,E,F because they were six, and at that time, I can't think of any names that can easily identify them. The color of this endangered shark is silver with a darker dorsal side.
When they see me approaching they come to my direction as if to greet me. But they are easily scared when a visitor in the house passes by the aquarium. They hit their head on the glass and got wild. And they only stopped once I called their names.
I lost A, B, and C a year later while D (a female specie) is 14 inches long now. E and F (males) are both 12 inches long. Male iridescent sharks can easily be recognized as it is smaller than the female one. This shark can grow up to four feet but D, E, and F didn't reach that size because of the limited space in the tank.
Iridescent shark's lifespan is up to 20 years but the sharks in the house outlived the 20 years limit of their existence. They are now 25 years old since I bought them in 1996. I feed them with flakes and once in a while live worms or leaves of any vine plants as their diet is omnivore.
Since I considered them now members in the household and not just a trophy in the living room, my iridescent sharks have a special place in the music bar room of the house in another subdivision in Lanang where we transferred four years ago.
-o0o-
President Duterte in a televised speech joked about having cancer after coughing fits. He did not mention in what part of his anatomy the malignant tumor is.
I will not take it as a joke as I believe that people our age (I'm 4 years older than the 76-year-old leader) are always prone to having the disease. And besides, the President is a politician and like other politicians sometimes, he doesn't want to tell all about his health condition. I'm not the President.
My doctor suspects that I have enlarged prostate after I told him I'm frequenting the restroom 3 to 4 times every night. He recommended for me to undergo biopsies to determine if it already developed into prostate cancer. And if I'm positive, I have to go under the knife.
"Doc, I'm not afraid to die anymore. I'm prepared for it, anytime, anywhere. Why would I go to the operating table? I want to go to Heaven in one piece," I seriously told him.
"Okay, since you do not want to be operated, then there's no need for a biopsies dahil ang purpose natin ay malaman kung may cancer ka," he explained. Then he prescribed Dutasteride Tamsulosin HCI Duodart at 500 mcg/400 mcg Capsule instead. To control its growth, if ever there is a sign! But the beauty of it, hindi ko na malalaman kung may kanser ako. Cheers to that!
-o0o-
The manufacturers of Covid-19 vaccines the city government is trying to negotiate a supply agreement imposed a conditionality to take liability away from them in case of adverse reaction or side effect to the recipient.
Because of this imposed conditionality, Mayor Inday Sara reminds the public that the inoculation program is voluntary. "Voluntary ang atong pagbakuna, dili siya mandatory. Allowed ang mga tao nga mag research ug mga materials and magbasa sa mga public health experts sa bakuna para makabuhat sila ug decision," she said.
The Mayor also said that the city government will cover expenses in case of complications following the vaccination. There you are readers, you may or you may not undergo inoculation. The decision is now yours to decide. But think of your health, your own family, and the hundreds of your constituents who might be infected if you will continue to ignore the dose.
But we can't blame also those who until today insist that they will not listen to the call of health authority to be vaccinated because of the adverse effect especially now that even the 61-year-old King of Tanzania in South Africa was reported succumbed to heart failure after taking the shot of the Covid-19 vaccine last week. Bahala na kayo sa buhay ninyo!
Ako, even though that it is not possible to have the shot because of my age I might still seek of being injected of the anti-deadly virus since taking the dose is voluntary. Ang katwiran ko, i-gamble na lang ang buhay dahil mamatay karin lang kapag walang bakuna. You have 50-50 chance to survive if you believe that it will save you.
So think intelligently readers. The ball is in your court to shoot and break the tie!