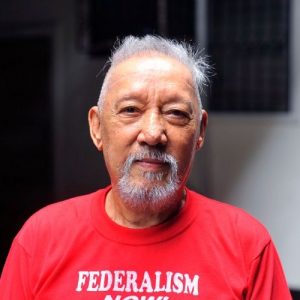 "Sara Duterte tops nationwide presidential survey." (TV Report, Feb. 24, 2021)

PER INFO, "RUN SARA RUN" Movements are cropping up across the country now. These movements call Davao City Mayor Sara Duterte Carpio to run for President in the 2022 presidential elections. Presently, Mayor Sara says that she does not have any intention of running for President in the coming elections. President Duterte also said that her daughter is not running for President. Hence, this growing loud call for her to do so.

Of course, being Davaonons, and knowing her integrity, capability, and commitment to public service, my family and I join this movement and likewise shout: "RUN SARA RUN!"
Assuming that Mayor Sara will ultimately "bite the bullet" and go for the Presidency in 2022, who do you think should be good for her tandem? Being from Mindanao, it is obvious that her Vice Presidential candidate must come from Luzon or Visayas. Our pick is former Senator Bongbong Marcos to be her tandem. Hopefully, Sara – Bongbong tandem in 2022, which my friend Boy Barros coined "SABONG", will materialize.
For the "SABONG" Senatorial Slate, we daringly proposed:
FOR LUZON:
Senator Gordon or Presidential Spokesman Roque
Labor Sec. Bello
Gov. Escudero
Former Senator Ejercito
Senator Villanueva or Rep. Macapagal Arroyo
Gov. Mandanas of Batangas
FOR VISAYAS
Gov. Gwen Garcia
Rep. Romualdez
Rep. Defensor
FOR MINDANAO
Senator Zubiri or his wife
Businessman Magundadato or Actor Robin Padilla
Senator Paquiao or his wife
Below are some of this writer's humble proposals for Sara-Bongbong tandem this 2022 for their consideration and adoption as rejection:
"Dream Philippines" Shared Vision of : A God-Loving and Health People, United in Diversity, with a Humane Just and Innovation Society, Sustainable Prosperity and Lasting Peace."
Mission: "Rebuilding our Nation and Total Integral Human Development."
Program of Government of: "A Transformation Administration via Authentic Social Transformation for Double Liberation of our People and Nation. This means an honest – to –goodness Constitution Reform and People Reform Agenda through Whole-of-Nation Collaborative Approach."
Core Values of: Integrity, Patriotism, Competence and Commitment.
Election Battle Cry" "Sama sama tayo sa tunay na pagbabago!"
At the risk of being accused of being over-confident, many dared predict that Sara will win by landslide the Presidency. The initial big problem for her is what to do when she becomes our President. Will she aim to be a truly transformative President or settle to be just an ordinary one and play it safe? This, no doubt, will be Sara's big opportunity for greatness. It had been said that "Nothing is Greet unless Good".