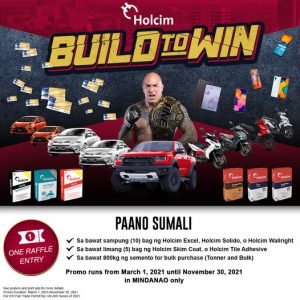 HOLCIM Philippines, Inc. has launched its biggest promotion ever raffling off brand new Toyota Wigos and Vios and Ford Raptors!

Called Build to Win, the raffle promo will run from Mar. 1 to Nov. 30, and provide cement buyers and hardware store owners chances to win hundreds of prizes throughout its duration. The company will draw winners in June, September, and December and give out 10 cars, 14 motorcycles, 24 smartphones and tablets, and Php8.5 million worth of gift certificates.

A cement buyer earns a raffle entry for every 10 40-kilogram bags purchased of road infrastructure cement Holcim Solido, general-purpose cement Holcim Excel, or masonry cement Holcim Wallright or every five bags of Holcim Skim Coat or Holcim Tile Adhesive.

The hardware stores that sold the Holcim products also receive a price if their customers are drawn. Bulk cement buyers earn a raffle entry for every 800,000 kilograms of cement bought. More details are available on Holcim Philippines' Facebook page.

Paulo Tan, Holcim Philippines vice president and head of sales for Visayas and Mindanao, said, "We are excited to hold this timely contest in Mindanao, which we expect to have a strong construction activity this year and moving forward. Aside from driving sales, the Build to Win contest is another way to reward our customers here while encouraging more people to try our various products.

"We at Holcim Philippines are confident that end-users will find that our offerings can help them build strong, durable, and high-quality structures and encourage them to become regular customers," he added.