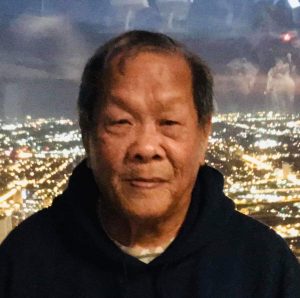 "I'M a hooker on the weekends," a souvenir shirt I brought home from the popular Bass Pro Shops in the US, a distrbutor of indoor and outdoor equipment all over the world, printed at the back of it.
Hooker, maybe noon yun when I was still with the Timesmen of long ago whose weekend pastime was to hook. But now no more, as many in the group have passed away.
Yeah, you read it right. A hooker, like the old Timesmen–Chuck Nunez, Pete Lavina, Joe Angliongto, Dodong Loyola, Ernie Corcino and Mike Balbin of UMBN that use hook, line, and sinker in catching fish.
Jess Dureza and I were also with the group and we are the only survivors of that TIMES' first generation. I was ten years ahead of Pare Jess in the TIMES. Pare, hindi naman tayo masyadong mabait, bakit mabait si Lord sa atin?
During those times, the weekends became fishing days for the editorial staff. Videoke bar was not heard yet but when it begins to mushroom and pollutes the air with noise coming from this establishment the city streets I started missing the weekend fishing trip and started frequenting the place, this time to 'fish' for pretty GROs.
I was assigned by our group to get fishing bait, that's why I'm already at the Bankerohan market as early as 3 a.m. scouting for fresh shrimps, moro-moro, or bolinao.
Since I was the runner in the group, I was exempted from paying my share for the hired banca and bankero, gasoline, food, and cases of cold beer. The rest shared the expenses equally among themselves after the day's fishing trip.
When there were times that the group went home empty-handed, the left-over of the bait was also shared by everyone so that each has something to show to his family that he has a "catch." Madalas ganito ang nangyayari – walang huli. Nonetheless, everyone enjoys the temporary escape from chaos and pollution of the city life.
Last time I went fishing was in Moraine Hills State Park & McHenry Dam State Parks-Parks when I was visiting my daughter Tala in the United States before this COVID-19 pandemic that totally changed our normal life to new normal. Para sa akin, abnormal life.
When I returned home from my five-month US visit and planned again to visit my daughter after few months of staying here, COVID-19 shows its ugly face. No more outdoor fishing. Goodbye videoke as the city government imposed the 9 p.m. to 5 a.m. curfew to its citizens to curb the spread of this deadly disease in this nightlife entertainment and other business establishments.
Now that the health protocols are beginning to ease as the cure to this pandemic has already been discovered and introduced to willing recipients, we thought of going back to normal life that we used to have then. Of course, hindi parin mawawala ang health protocols as the danger of getting infected is still very much around.
Palaging maghugas ng kamay, wear face mask, and observe physical distancing.
This Holy Week, together with Jin Lorenz and eldest son Jojo and family, I will try my fishing skill again after a long lull. This time, a two-night stay in a popular fishing resort somewhere in Davao Oriental.
Readers will know the place after we have gone there. See you then fishes!
Meanwhile, while waiting for that Holy Week retreat, I've decided, and to keep myself busy, to go greener.
Yes, aside from fishing and wild hunting in the then forested areas of Davao del Norte in the 60s, mahilig din ako sa veggies backyard gardening.
But with the remaining 3×2-meter uncemented space left when I renovated the landscape in the house, what can one expect to plant? A little common sense and nothing would be impossible.
Since there is already an existing miniature bahay kubo in the small space underneath the silver Foton tree adorning our frontage, I've decided to construct a payag made of bamboo for the ampalaya vines to climb, alugbati, atsal, onion, and believe you me, two pineapple plants now about to bear fruits, to complement the bukid scene. Kalabaw na lang ang kulang!
I mm not kidding, try visiting me one of these days and see for yourself what keeps me busy despite this abnormal time. Painumin ko kayo ng hot herbal tea. Magdala lang ng pandesal!