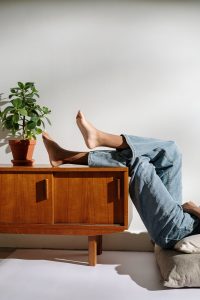 The internet is abuzz with so many questions about wearing denim at home. Many are asking: why?
As many people adapt to a work from home lifestyle, wardrobes and styles are also adapting. While it is true that consumers express interest in clothing and textiles made for comfort, denim is still in the picture and is considered a choice.
Fashionistas know that it is not wrong to wear denim at home—especially if they know and have found the right pair.
Vintage jeans, chambray shirts and indigo knits are just some of the outfit staples you can wear to give your pajamas and loungewear a break.
Uniqlo's stretchy jeans and Levi's classic pieces will always be functional and easy to put on. They are better choices for some busy work days because putting them on makes the wearer feel productive and active. Forever 21 also recently just released Premium Authentic Denim, a line with a variety of options according to preference in comfort, stretch, and mobility.
Wearing denim also adds a sense of normalcy in daily routines and keeps your style on point when you make your living room both your office and your runway.
Shop your denim essentials and more in SM Supermalls in Davao. Get as much as 70 percent off mall wide in Sale in the City in SM Lanang Premier and in SM City Davao on March 12-21. Get extra 10 percent off in the SMAC Sale in The SM Store on March 15 and 16, too!