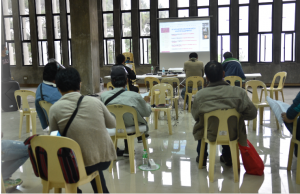 The indigenous peoples (IP) community of Barangay Tadiangan, Tuba, Benguet continues to support the renewable energy operations of Hedcor, a leading run-of-river hydropower firm in the Philippines.
Hedcor is part of AboitizPower's renewable energy or Cleanergy portfolio. Currently, AboitizPower, together with its partners, is the largest owner and operator of renewable energy in the Philippines based on installed capacity.
Hedcor secured the approval of its memorandum of agreement (MOA) with the Tuba Ancestral Domain Indigenous People Organization (TADIPO) following the en banc deliberation by the Commissioners of the National Commission on Indigenous Peoples (NCIP) last February 24, 2021 for its 1.3 megawatt (MW) Irisan 3 hydro power.
The MOA outlines the terms and conditions of the cooperation of Hedcor and TADIPO in granting the Free Prior Informed Consent (FPIC) for the 1.3 MW Irisan 3 Hydro which, among others, include that the IP community will get a royalty share from Hedcor's hydro facility. The MOA also stipulates the implementation of projects for TADIPO.
"We, the Tadiangan IPs, envision our community to walk towards the future in the footsteps of our ancestors with sustainable local livelihoods and community solidarity. We will achieve that through the royalty shares generated from Irisan 3 Hydro of Hedcor," TADIPO President Andress Ligligan said.
The royalty share can be used by TADIPO for community programs that will continue to enrich their culture and traditions. Its partnership with Hedcor also paved the way for the construction of an IP office, along with other programs centered around education, health, livelihood and enterprise development, and environment conservation, among others.
The renewed partnership between TADIPO and Hedcor is well supported by the National Commission on Indigenous Peoples-Cordillera Administrative Region (NCIP-CAR) who facilitated the FPIC process.
NCIP-CAR also withdrew the show cause order issued to Hedcor late last year for its 2.4 MW Sal-angan hydro power plant, upon verification that Hedcor is fully compliant with RA 8371: The Indigenous Peoples Rights Act (IPRA).
"Considering the FPIC process has already commenced on the Sal-angan Hydro Plant, the show cause is withdrawn," NCIP-CAR Regional Director Atty. Marlon Bosantog said.
The continuing support of TADIPO and NCIP is vital to Hedcor's commitment to the sustainable development of its host communities while delivering clean and renewable energy. A pioneer in the renewable energy space, Hedcor is also a staunch advocate for environment protection and preservation, and is committed to sharing these advocacies with the communities it serves."As we enter Irisan 3 Hydro's 30th year of operation, Hedcor's continued partnership with TADIPO and the NCIP will allow us to continue upholding and protecting our ICC/IPs culture and rights. This is a fulfillment of our promise of advancing business and communities in the years to come," says Rey Rafael, Hedcor's AVP for Operations.