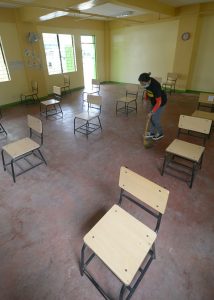 THE CITY government has eyed private hospital for the vaccination of senior citizens, a top official said Wednesday.

Dr. Ashley Lopez, acting head of the City Health Office, said that the city government has started discussing the issue with private hospitals as senior citizens are next to get inoculated if vaccination of medical frontliners is completed.

Primary and secondary hospitals are considered for the program, Lopez said.

"We are planning to hold the vaccination for senior citizens at the hospitals para diretso na sila ma-monitor na sila'g maayo, kay vulnerable ni sila and mas kinahanglan nato og monitoring bahin ani nga group of population," Lopez said.

This developed as the city government has set up the Magallanes Elementary School as the second vaccination site for the inoculation of more public healthcare workers of the city.

"This (Magallanes Elementary School) is almost ready. Gahapon niadto ko didto, nag-pintura na sila og flooring. Ang mga classrooms naka-set up na pud. Hopefully, by Friday we could open up Magallanes Elementary School for our public healthcare workers," he said.

He said the plan is to hold the vaccination of public healthcare workers – those from the temporary treatment and monitoring facilities, molecular laboratory, city government employees – in the school.

Earlier Dr. Josephine Villafuerte, Davao City Covid-19 vaccination Program head, said the city government has also identified the University of Southeastern Philippines as another place for the program, particularly those remaining priority groups.

The vaccination rollout for healthcare workers started last Friday with around 150 healthcare workers from the Southern Philippines Medical Center were the first to get inoculated with the Sinovac vaccines donated to the Philippine government.