MAYOR Sara Duterte urged Monday the public not to give in to those soliciting funds for her supposed presidential candidacy in next year's race as she maintained she is not joining it.
.
In her program over the city government-run radio station, Duterte, daughter of President Rodrigo Duterte, said in vernacular: "In all of my candidacies, I never solicited, or asked someone to solicit on my behalf from businesspeople or from anyone else."

This was her answer to the question after a report reached her office that some individuals were soliciting on her behalf in relation to the possibility of her running for president to follow the footsteps of her father.

Duterte urged those who might have encountered these people who have been soliciting in her name to inform her about it so that she could stop these people who are soliciting funds for her.

Despite her position that she will not run, the call for her to run has snowballed that some groups have been holding motorcades and placing tarpaulins. She has also urged these people to stop their activities and use their funds to help those in need in the middle of the COVID-19 pandemic.

On the question of whether she would run if her father would tell her to, Duterte said: "He won't say that," adding that she met with him in January when she told him of her decision not to run.

She said her father has never told her to run because during her first stint in politics, it was her mother who told her that her father wanted her to run for mayor.

In succeeding elections where she was urged to run, it was her father's emissaries, now Sen. Christopher Lawrence Go and now Presidential Adviser on Streamlining Government Processes Leoncio Evasco Jr., who informed her that her father wanted her to run.

"He has not sent someone to tell me (to run)," she added.

The mayor, who in January said she did not have any intention of running for the position, added it is also too early for anyone to solicit fund for anyone's candidacy because the filing for national positions is still scheduled in October.

She said there is an impasse on the issue as the people "will not believe and will not listen" to her that she is not running.

"We cannot all move on if you will not believe in what I said," said the mayor, adding that there was even someone from Luzon who went to see her just to tell her that a fortune teller told the person that she would win.

She jokingly added that she told the person to ask the fortune teller what would make her change her mind.

Duterte said some of those supporting her might have drawn parallelism between her and her father in terms of candidacy for president as the elder Duterte only substituted someone in the 2016 presidential race.

"President Duterte and I are totally different people," she said, adding that while her father has a national party that filed a candidacy of someone that he eventually substituted, she does not have any and that she always is into planning her steps.

"I am a very controlling person, I will not do something without a plan," she added, pointing out that in case she decides to run, she will call her supporters to unite and help her.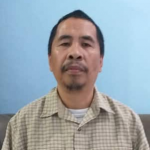 Managing Editor at Mindanao Times