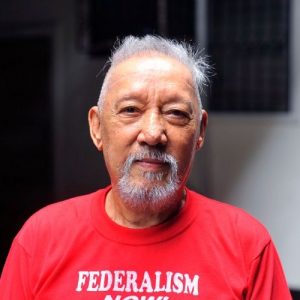 "AND I tell you, you are Peter (Rock), and on this rock, I will build my church, and the powers of death shall not prevail against it.
I will give you the keys of the kingdom of heaven, and whatever you bind on earth shall be bound in heaven and whatever you loose on earth shall be loosed in heaven" (Matthew 16:13-19).
The church which our Lord Jesus Christ established on earth is now known as the Roman Catholic Apostolic Church. Roman because its seat of governance is in Rome. It is Catholic due to its universality.
It is an Apostolic because it began with the twelve Apostles and continued with their successors."
Undoubtedly, the first Pope was St. Peter. He was succeeded by St. Linus and St. Anacletus succeeded St. Linus, who was succeeded by St. Clement who was succeeded by St. Evaristus. Then St. Alexander, St. Sixtus, St. Telesphorus, St. Hyginus. The tenth Pope was St. Pius I. In my lifetime, the Popes were Pius XI, then Pius XII, Blessed John XXIII, Paul VI, John Paul I, John Paul II, and Benedict XVI. Our current Pope Francis, who succeeded Benedict XVI, is the 266 Pope.

One of my articles in my 1999 book "PRICKS of Conscience: was titled "the Pope and I". It was a story of my personal participation in Pope John Paul II's visit to Davao City, 1981. Allow me to reprint en toto the said article below for our readers better appreciation:

"The Pope and I"

"In 1980, I nearly died in a bus accident. The Nembusco passenger bus I was riding from Tandag, Surigao del Sur was bumped by a speeding cargo truck. The huge bumper of said truck crashed right on my seat. Luckily, in a split of a second, I was able to leap sidewise and escaped being hit, thank God. My bag beside me was a total wreck under the strong impact of that ugly bumper. But my left leg was caught by broken parts of the bus. My leg was later operated on.
The accident happened at the Mawab zigzag road in Davao del Norte. When I was brought to the Christ the King Hospital in Tagum together with the other passengers that were hurt, I asked myself: "Why did God save me? 'Why did HE give me a second chance to live?'"

In 1981, I got partly the answer to my question and that is: "I must first serve Pope John Paul II.' That was not only one of my toughest assignments but also the most fulfilling. Davao City was one of the places Pope John Paul II visited on his first trip to the Philippines.
I was still in crutches due to that accident, when I was instructed by my boss Don Antonio O. Floirendo, Sr. who was the overall Chairman of the Committee on the Papal Visit in this city, to help out in the Physical Arrangement Working Committee (PAWC) headed by Assemblyman (now Congressman) Rodolfo P. del Rosario.

While the PAWC was just starting to plan its activities, suddenly Assemblyman del Rosario left for abroad for a very important mission and returned only a few days before the scheduled Papal Visit here. The great responsibility of coordinating the planning, construction, decoration, and installation of all the needed infrastructure and physical facilities for that historic occasion was placed on my shoulder.
Boy, it was indeed a difficult task compounded by every limited time for the preparation and delayed the decision on the venue (Davao International Airport) not to mention the bad weather and limited funding. But despite all these problems, with God's help, we were able to accomplish our trying assignment on time.

Our "templet", the structure where the Pope held his mass, was the most symbolic and creative compared to Cebu's and Manila's A picture of it was published last Jan 14 in the Mindanao Daily Mirror by our friend writer – Photographer E. O. Fuentes. The beautiful "Templet" was actually designed by architect Bobby Mañosa of Manila who was commissioned by Don Floirendo. We prepared the detailed plans, and constructed and decorated it.
Rina Jimenez-David of the Philippine Daily Inquirer recently wrote about it: "Symbol of Mindanao's welcome was the altar canopy resembling a vinta sail, which I took to signify the efforts of both Muslim and Christian communities to live together in an island torn by strife."

When I was requested by Monsignor Antonio Mabutas then to brief our priests on our physical preparation, one of them asked me: "Arch't. Gavino, with the expected multitude of people going to Davao Airport to attend the celebration, how can we dispense our communion there?" I retorted: "Father, that is already your problem We have already lots of problems yet to solve in our Working Committee." The priest in attendance laughed upon hearing my reply.

Due to my numerous activities, I did not have the time to go to any Church to confess my sins so that I could receive holy communion when the Pope arrived. A good priest acceded to my request to hear my confession right there on the "templet" that we were still constructing.

The Popemobile we used in 1981 was the white Bronco vehicle of Don Floirendo. IT was open – meaning without any bullet-proof glass cage. For security purposes, Anthony B. Sasin from the Floirendo's group companies drove the vehicle.

The most excited and "Disorderly" group-screaming, clapping, jumping, and laughing – that met Pope John Paul II in the Davao Airport then were our nuns. They were like those teenagers listening to Elvis Presley sing when the Pope passed by their assigned place.

And when the Pope left the "templet", people rushed to it pulling the flowers, plants, carpets, and other decorations therein for souvenirs. This, I heard, also happened during the recent visit of the Pope in Manila "Pinoy talaga!"

As I watched Pope John Paul II (his second visit to our country) on the television these past few days, beautiful memories of his first coming to Davao City filled my mind. My encounter with our Pope was a wonderful experience of a lifetime. Yes, he also touched my life. I was never the same again after that and of course for the better. My humble apostolate to youth I lovingly dedicate to him."
Pope John Paul II is now a canonized saint.