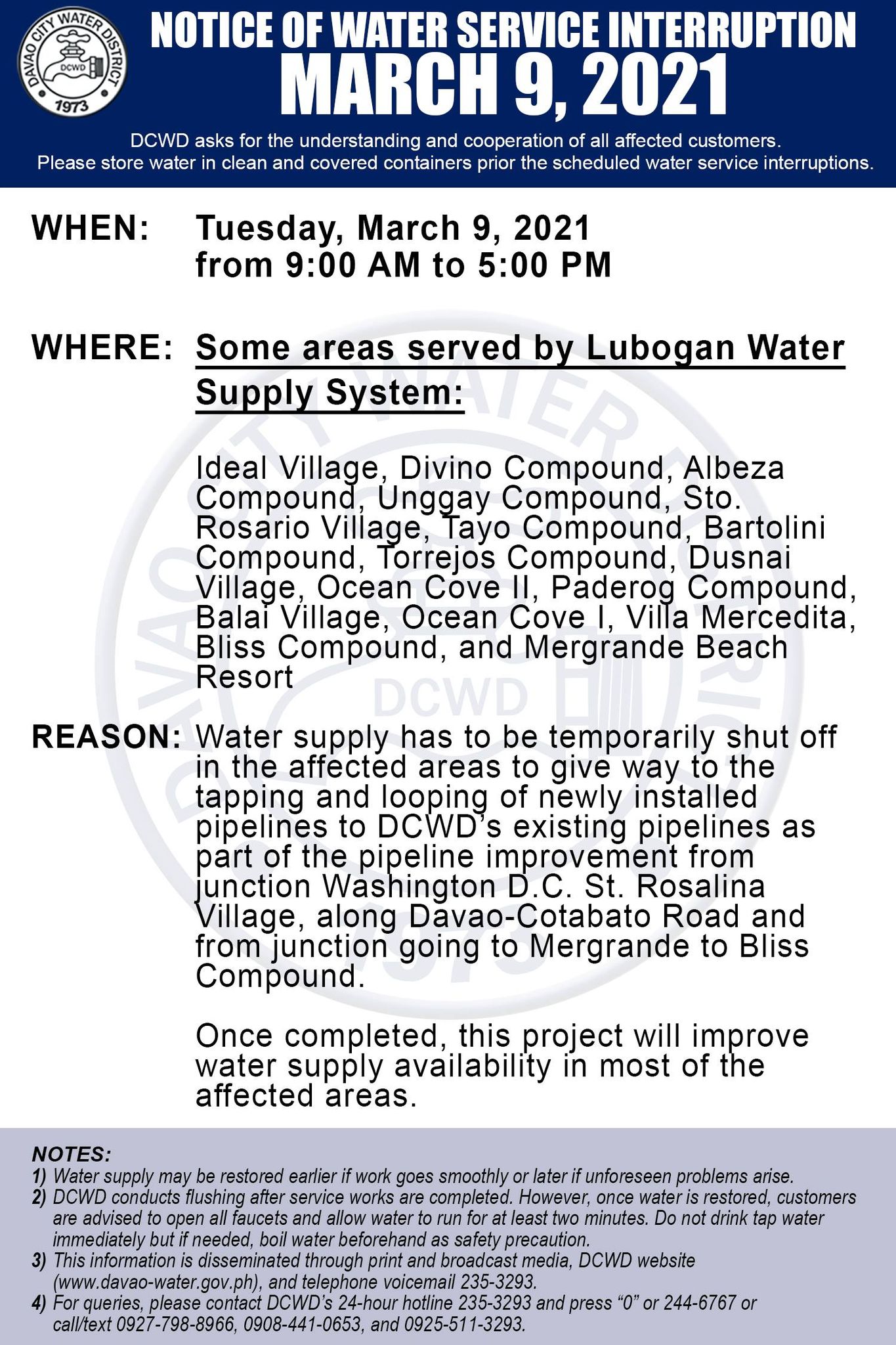 DCWD asks for the understanding and cooperation of all affected customers.
Please store water in clean and covered containers prior the scheduled water service interruption.
WHEN: Tuesday, March 9, 2021 from 9:00 AM to 5:00 PM
WHERE: Some areas served by Lubogan Water Supply System (WSS):
Ideal Village, Divino Compound, Albeza Compound, Unggay Compound, Sto. Rosario Village, Tayo Compound, Bartolini Compound, Torrejos Compound, Dusnai Village, Ocean Cove II, Paderog Compound, Balai Village, Ocean Cove I, Villa Mercedita, Bliss Compound, and Mergrande Beach Resort
REASON: Water supply has to be temporarily shut off in the affected areas to give way to the tapping and looping of newly installed pipelines to DCWD's existing pipelines as part of the pipeline improvement from junction Washington D.C. St. Rosalina Village, along Davao-Cotabato Road and from junction going to Mergrande to Bliss Compound.
Once completed, this project will improve water supply availability in most of the affected areas.
NOTES:
1) Water supply may be restored earlier if work goes smoothly or later if unforeseen problems arise.
2) DCWD conducts flushing after service works are completed. However, once water is restored, customers are advised to open all faucets and allow water to run for at least two minutes. Do not drink tap water immediately but if needed, boil water beforehand as safety precaution.
3) This information is disseminated through print and broadcast media, DCWD website (www.davao-water.gov.ph), and telephone voicemail 235-3293.
4) For queries, please contact DCWD's 24-hour hotline 235-3293 and press "0" or 244-6767 or call/text 0927-798-8966, 0908-441-0653, and 0925-511-3293.