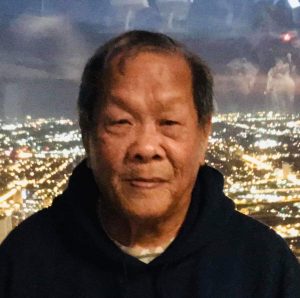 "ASK, and it shall be given you; seek, and ye shall find; knock, and it shall be opened unto you: For every one that asketh receiveth; and he that seeketh findeth; and to him that knocketh it shall be opened. Matthew 7:7-8."
Many times in my life I prayed to God to always be on my side whenever I have to make a good decision for myself, my family, and others.
In all the favors I asked of Him in the past, He answered me sometimes, while other times the answers have yet to come. Yet, I never lose hope that at the end of the day God will show me the answers to these.
This is my unforgettable encounter I had with a child named Mica seven years ago.
I first met Mica in the old house in Matina when she was still an infant in her mother's arm who was then visiting a younger sister working as my kasambahay sometime in 2013.

"Ka cute ng anak mo ang puti, saan niya nakuha ang kaputian hindi ka naman maputi?" I asked the mother then. "Oo nga Sir, akala nga ng ibang makakita yaya lang ako ng aking anak," the mother answered with a smile. Then, I asked her again: "Gusto mo ampunin ko na lang siya?"
Sa totoo lang I was not serious when I asked the mother to give her child to me. But she seemed to take it seriously when she answered:
"Si Sir naman, parang nanghihingi lang ng aso," she said.
I took it as an answer, not an insult for I believe that anyone in her right mind will never agree to giving up her child to other people despite the fact that by allowing her child to grow up in an atmosphere of a happy family like mine, the future of the child will be secured.
Natawa na lang ako sa isinagot niya.
Mica belongs to a Lumad family from Bukidnon. Her mother works as part time kasambahay, while her father is also a part time construction worker and lives in a resettlement area somewhere in a barangay overlooking Mt. Apo. She is the youngest of four siblings, all minors.
I almost forgot everything about Mica. They stopped coming to the house after her mother's sister resigned as my kasambahay and after graduating from high school in an Alternative Learning School (Sunday schooling) while working with us and got married.

But God seemed to have not forgotten the child who once visited my house. The Heavenly Father finally answered after seven long years. Mica's mother and I crossed paths again last month while I was looking for a kasambahay, this time at our present address on the north side of the city.
My eldest son Jojo was able to contact the mother and offered the job in the house. She applied with a request that she bring along with her the youngest child as no one will attend to her if she works in the city. The child to my surprise is Mica, now seven years old.
I learned later that she was not baptized until today or even enrolled in school.
At first, I was hesitant to accept the request of the mother but after I informed my daughter Tala in the US and she agreed to the condition as we were badly in need of a kasambahay, I finally consented to have Mica live with us. Anyway, this is what I asked for when I first saw her seven years ago. Talagang mabait si Lord sa akin kahit medyo matagal Niya sinagot ang aking kahilingan.
I told the mother that Mica must be baptized in a church in accordance with the Christian's practice, and enroll her in a school when face-to-face classes open this school year. "Kawawa naman ang anak mo kung lalaking mangmang."
She agreed and thanked me for my advice to her. Ewan ko what's in store for Mica. But for as long as both mother and her child stay with us, I can assure the mother a better future for her daughter. Call it a humanitarian act on my part, but to me, God once again intervenes. 
God really works in mysterious ways!