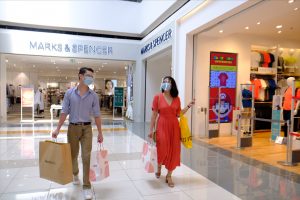 Shopping will always be a part of your routine and it's always a great time to discover new brands and styles! SM Lanang Premier's The Great 3 Day Sale on February 26 – March 1 will also make you look forward to getting fresh finds with discounts of up to 70 percent all day—from 10 AM to 9 PM
If that doesn't awaken your inner shopper, take this quiz to find out what kind of shopper you really are.
1. Which statement describes you the best?
a. I am always online and connected with friends.
b. I enjoy getting the best deals in town.
c. I love to shop and the thrill of winning prizes.
2. Your ideal breakfast experience involves…
a. Avocado toast and perky pop music in the background
b. Smoothie bowl after some yoga
c. Black coffee and reading a newspaper
3. You are getting dressed for an important meeting. You…
a. Snap an OOTD and consult a friend to check if your outfit is on point
b. Wear your smartwatch to make sure that you are always on schedule
c. Don your favorite top for good luck
4. You while away the time by…
a. Browsing Buzzfeed and Instagram to see what's hot and trending
b. Reading fashion magazines and planning outfits and shopping sessions
c. Bullet journaling and brain dumping
5. What's a chick flick that you like to rewatch?
a. Mean Girls
b. The Devil Wears Prada
c. Confessions of a Shopaholic
Mostly As – Social shopper
You are the social shopper! You always are always connected through social media and have all the latest news in the palm of your hand. You know exactly the items on sale and where to find them to get the best deals because you follow SM Lanang Premier in Facebook and on Instagram.
Mostly Bs – Savvy shopper
You are the savvy shopper because you always have your SM Advantage or Prestige Cards on the ready. You know exactly when to shop to get extra 10% off your purchases and you already have these dates and times noted in your calendar: Prestige Sale on February 26 and SMAC Sale on February 27 and 28.
Mostly Cs – Super shopper
Shopping is your superpower and you know how to get it done well because you follow an itinerary and bring a shopping list. You also know that you can win P10,000 worth of shopping money or a brand new Suzuki S-Presso in the e-raffle that you can join for every P1,000 purchase.