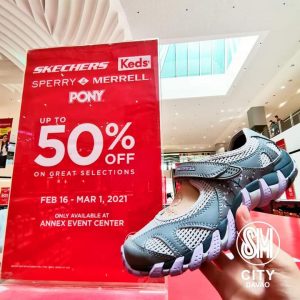 Bask under the sun. Feel the goodness of Vitamin D as you stroll around the nearest pocket park.
Walking, surely, is a natural way to de-stress and shed off your extra pounds while enjoying the warm embrace of the sun.
And what's the best way to enjoy it? Wander with shoes that suits your sole!
Here's a list of some ideal solemates for walking and other activities:
1.) For long walks – Slip on to comfy pair of soft-cushioned sneakers. An example of this is Keds' classic kicks. It is truly a delight for your winged feet.
2.) For outdoor activities – Enjoy a blister-free adventure while wearing shoes that can withstand island to highland challenges. Awesome choice for this is Merrell gear, which has been known for durability.
3.) For jogging/running – Step into rubber shoes that can inspire you to endure an extra mile. One perfect pair for this activity is Skechers' Go Run footwear. It is lightweight and has a relaxed fit that can surely make you fall in love with jogging or running even more.
4.) For strolling – Wear hassle-free slip-ons or sneakers when having leisure walks. A trendy pair of Pony sneakers or classic Sperry top-siders are some of the go-to footwear for fun and stress-relieving travels.
Sole-search further at The SM Store's Bodega Sale on February 16 to March 1 at The Annex Event Center in SM City Davao. Participating brands include Skechers, Merrell, Sperry, Keds, and Pony.
May you found the perfect pair while keeping tab of the strict health protocols. For more updates, visit the official social media page of SM City Davao.