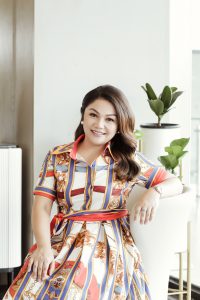 "MULTIPLE in conditions have emerged due to prolonged contact with personal protective equipment like wearing of face masks and face shields; plus excessive personal hygiene like exaggerated hand washing and cleansing with alcohol or hand gel.
These protective measures have resulted in acne flares, folliculitis, contact dermatitis and the exacerbation of pre-existing skin conditions like atopic dermatitis for some people.
Due to the stress brought about by the pandemic, certain conditions like urticarial, psoriasis and hair loss have been frequently seen by our dermatologists," commented Dr. Jennifer Aileen Ang-Tangtatco when asked what are the most common skin problems among her patients during this Covid pandemic we are experiencing.
Dr. Tangtatco, along with her partner Dr. Bryan Ko Guevara, are the dermatologists of the relatively new Southeast Dermatology found at The Compound along Tulip Drive in Matina, Davao City. Both young doctors are board-certified and fellows of the Philippine Dermatological Society (PDS).
Dr. Tangtatco graduated from the University of Santo Tomas while Dr. Guevara is a product of the Davao Medical School Foundation. Both dermatologists trained at the Southern Philippines Medical Center and were among the most outstanding residents during their time.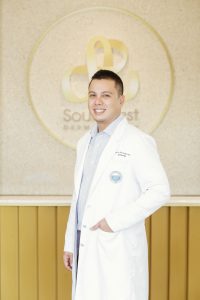 Both doctors then took further training internationally in their respective fields of specialization. Dr. Tangtatco had her internship in Pediatric Dermatology at the Hospital for Sick Children in Toronto, Canada, after which she trained in Phototherapy and Photobiology at the National Skin Center of Singapore.
This comely dermatologist also passed the examination of the American Board of Wound Management; and is a certified Wound Specialist Physician.
On the other hand, the athletic Dr. Guevara trained for dermatology, immunodermatology and molecular dermatology at the Mt. Sinai Hospital (New York), Yale University Hospital and the Hospital of the University of Pennsylvania, King's College (London), and the Mackay Memorial Hospital and the National Cheng Kung University Hospital in Taiwan. Dr. Guevara passed the dermatophathology board exams in the Philippines, the Asian Academy of Dermatology and Venereology in Taiwan, and the International Committee for Dermatology of Frankfurt, Germany.  How much more impressive can these Davao dermatologists of Southeast Dermatology get to be.
"Southeast Dermatology started in the Sibley Medical Arts Building of the Brokenshire Hospital last 2017. The Brokenshire Hospital's Southeast Dermatology clinic focuses on the treatment of psoriasis, eczema and other skin diseases. It is equipped with a phototherapy machine that can be used to treat these skin conditions.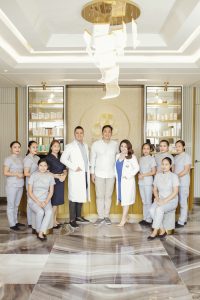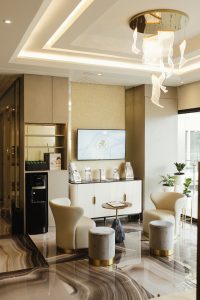 The Southeast Dermatology clinic at The Compound was launched to expand our services and to reach more patients especially during this pandemic. The decision to open this relatively new branch is also timely as there are patients who are more cautious and less inclined in seeking consultation in hospital-based clinics.
We also strictly follow proper safety protocols to assure our patients that they are safe and thus, they can be more comfortable and can enjoy their visits in our new and well-designed modern clinic," assures Dr. Tangtatco.
Happily, the new Southeast Dermatology clinic offers a broad range of services covering both pathologic and aesthetic/cosmetic dermatology for patients of all ages and ethnicities. "We strive to provide our patients with the best and affordable dermatologic care.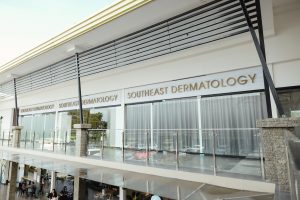 The new and modern clinic has enough space for consultation and treatment rooms. Our clinic is equipped with a state of the art laser equipment and cosmetic treatments that address a range of pathologic and cosmetic dermatology needs such as acne, acne scarring, facial pigmentation (melisma), laser hair removal, chemical peel, anti-wrinkle injections, radiofrequency and high intensity focused ultrasound treatments, medical cryolipolysis, muscle toning, non-surgical cosmetic procedure like blepharoplasty, and many more," enumerated Dr. Guevara.
The clinic has several non-surgical procedures that can reverse or delay the signs of aging. The Southeast Robotic Lift can lift and tighten the face and neck by enhancing collagen synthesis for a more youthful appearance.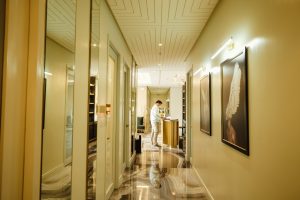 The Plasma Eye Lift provides a non-surgical procedure that helps improve sagging eyelids. The ALMA-Q laser can brighten the skin, improve its texture and minimize pore size with no downtime. I have to consult soon with Dr. Tangtatco regarding treatment for my prominent eye bags.
"The Southeast Dermatology boasts of internationally-trained and board-certified dermatologists and is well-equipped with the latest technology. We believe in giving real service; and that takes skill, training, integrity and good technology to achieve that," Dr. Jenny Ang-Tangtatco assures with confidence.