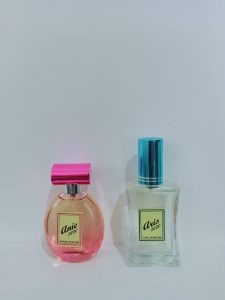 CARD MRI Astro Laboratories Inc., an institution under CARD MRI which was established in 2019, introduced its new perfume brand on January 29, 2021.
The new brand has two scents that are inspired by every social development practitioner in the country who has contributed to CARD MRI's goal of poverty eradication. Aris, (pronounced as a-ree), is a scent for men with a distinct  cool ocean breeze that gives a calm and collected impression. The scent was formulated to fit formal settings as it is inspired by industry leaders who have pioneered the microfinance revolution in the country that led to the inclusion of microfinance as a recognized tool in eradicating poverty  in the country and all over the world.
Meanwhile, Anie (pronounced as  añea), is created for women to give a warm, bright, and fresh scent that is perfect for the warm climate in the Philippines. This perfume symbolizes the vibrant and young microfinance workforce, who will be the bearer of hope as MFIs continue their fight against poverty.
Aris and Anie are limited edition scents with only 100 bottles produced for each.
"We are inspired by leaders of the microfinance industry. When you encounter these scents, it reflects their personalities and leaves those impressions to the wearer. We hope that our perfume will be symbols of CARD MRI's continuous journey of uplifting the lives of socio-economically challenged families," said CARD Astro President Ms. Grace Quiza Contreras.
"We are one with CARD MRI in providing opportunities for women and their families through our products and services. We are aiming to create a bigger impact to the community with our new offerings in the years to come," Contreras added.
In 2019, CARD Astro began its backyard production aiming to employ CARD women clients. It started with a product line composed of dishwashing liquid, hand soap, alcohol, and hand sanitizer, which was timely as these products became essential and in-demand during the pandemic. In the future, CARD Astro plans to pursue an organic cosmetics line for an environment-friendly approach at an affordable price.