The pandemic has made distances clear among people and has made it easy to lose in touch with good friends—especially on some days when online meetings and chats just don't do it for you. But Zoom fatigue, cancelled visits and limits on gatherings should not make you feel like your friends are drifting away.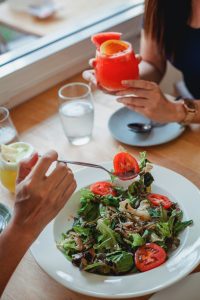 Take note of these expert tips it's easy to rekindle close connections.
Reach out
Send a note, a message or a meme to break the ice and see how things are going. Let your friends know that you have been keeping up with them in social media; tell them that you miss them. Trust your intuition in this: if you are feeling drawn back to someone, there is a good chance they feel the same way about you.
Do something fun
Online conversations these days often end with "see you soon" or "let us hangout sometime." Don't let that be the end of the connection and instead actually make plans. This can be a quick lunch date after doing errands or essential grocery runs. Initiate the date by sending your friend photos of your favorite food or a link to Shopee's dining vouchers on sale. SM Lanang Premier's Food Hall merchants, for instance, are selling online-only coupons that grant diners 20% off on favorites in Noonsaram, Red Corner Burger Cafe, Juice Co.: The Juice Bar, and Potato Corner. This runs until May 31, 2021. Log on to Shopee and click Deals Near Me.
Connect on a deeper level
When offline hangouts are a success and go well, you have a chance to take friendships to a deeper level—the way they were before we were all disconnected by social distancing. You can set up weekly coffee dates and or regular lunch stops. This makes meeting friends a part of your routine and something to keep friendships intact. It's not being clingy when this is with a close friend or a bestie. Settle for one place to hangout—like the laid back comfort of an outdoor dining. Your best bet is the alfresco area in SM Lanang Premier's Food Hall—it has good seats and fresh air and buy one get one promos over-the-counter until February 21! Make lunches in Noonsaram, Salo, and Red Corner Burger Cafe fun and cool with your favorite Coca-Cola.
Call a friend today, reconnect and make memorable friendship moments again.