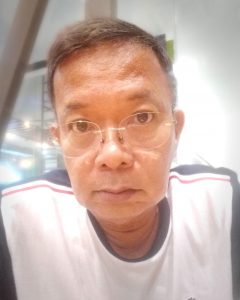 AMONG some friends online, it just couldn't be helped but to talk about the kind of job they would pursue once the lockdown is over.
Their places of work had closed down sometime during the one year of quarantine, and for about half of them, catering, delivery of dry goods and even creatively-designing masks became the necessary fall back in order to earn.
For this particular group, the broader range of their skill sets have proven to be both a blessing and an advantage.
However, for others who had slightly little else to fall back on, the prospect of learning a new trade seems daunting, especially when you're considering the uncertainties that are sure to come along, once things go back to "normal", or whatever that really means.

My thoughts go out to many waiter-friends who through so many years have worked in the food and entertainment industry, which happens to be one of the worst-affected by the pandemic.
Learning a new "talent", as we jokingly called it during earlier conversations, may be one option, and I had suggested that he check out TESDA for that. As a matter of fact, they even give job recommendations once one has passed their training courses which encompass a lot of skills.

On the other hand, there have been others who have shifted to helping in their small family businesses, like tending to their sari-sari store or helping sell fish or meat in the wet market.
There were also those who worked as extra hand in carpentry and construction, pr whatever was available, either through their neighborhood contacts, friends, and acquaintances. A smaller percent of whom I know had gone back to their provinces, to continue with studies, and be home with kin.

In all of these, the prospect of again winning back the normalcy that has been taken way by covid, appears to be unrealistic. For one, the workplace, including its culture and systems will have been altered already as we speak, and to think, we're still even in the middle of the pandemic as yet.
It's quite clear that for some workplaces, the reliance on technology have significantly increased in just a year, with them depending more on electronic communications and other usual processes, in favor of physical presence of manpower. As such, only a skeleton crew work out what's left.

Eventually, the management, once it realizes that this initial action to scale down the employment of people and to shift to the present alternative covid-dictated recourse, is a good tactic, the old face of the workplace, or its "normal", is changed forever.

Just last week, someone I know a few blocks down said to me that "I guess it's time to look for another job." Apparently, his office, which for the whole of last year continued to hire them as work-at-home personnel, had finally decided to close shop. Yup, it's time to move on.
To wait hopefully for a return to normal is an illusion. Especially now that the promised coming of new vaccines seems like manna from heaven, it looks as though you can actually taste it already.
Even under a covid-free world, I believe that hand-washing, disinfecting, and especially distancing oneself amidst unfamiliar company, will remain. After all, the only thing permanent in the world is change. That is normal.