Damosa Land, Inc., developer of the nearly completed Damosa Diamond Tower in Davao City, recently signed a formal letter of intent with SGV & Co., a member firm of Ernst & Young (EY) Global Limited. SGV plans to move its nearby Davao branch office to the new building.
The Damosa Diamond Tower is a Grade A building which is vying to be the first office in Davao to get Berde and Edge certification for its environment-friendly features such as LED lightning, solar panels and eco-friendly insulation, among others. The intent to harness renewable energy and alternative energy power sources  makes it attractive to entities that have sustainability goals in their agenda, such as SGV. Damosa Diamond Tower's focus on sustainability, coupled with its strategic location, make it an appropriate base for locators that want to capitalize on and contribute to the City's further development.
Located in the Damosa IT Park in Davao City, the building has over 20,000 square meters of leasable space and is anticipated to become a premiere business address in the city. It has received several awards including Philippines Property Awards Best Office Development in 2020, Best Office Architectural Design in 2019, Highly Commended for Best BPO Office Development in 2019, and Highly Commended for Best Office Development in 2019.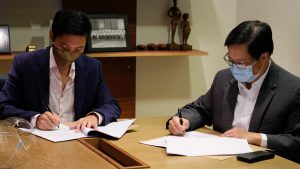 The building embodies the design philosophy of developer Damosa Land Inc. (DLI), a homegrown firm started by the late Davao luminary Don Antonio Floirendo, which showcases its deep connection to agriculture and its strong Mindanaoan heritage through the building's façade, which evokes the wavy lines of banana plant fibers.
"We are honored that SGV & Co., a professional services leader, has confirmed its intent to locate its Davao branch office at Damosa Diamond Tower," noted Mr. Lagdameo.  "This iconic structure is a testament to the economic dynamism and potentials of Davao City. DLI is committed to opening this office building on time, despite the challenges brought about by the pandemic, so that we can achieve our vision of creating a knowledge hub that would further establish Davao as an economic powerhouse in the southern Philippines."