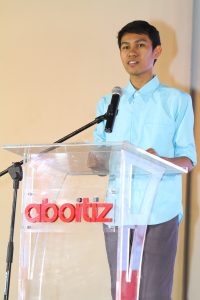 Poverty is not an excuse for failing to get a good education and realize one's dreams. This is true for Harold O. Sapues, a farmer's son, now a Certified Public Accountant (CPA) who was an Aboitiz scholar for eight years.
The 25-year old who graduated top of his class (Bachelor of Science in Accountancy) at the University of Cebu – Banilad Campus in 2015, was the fifth among a brood of seven and the first in the family to obtain a diploma. Five years later, the young CPA is now a Certified Tax Technician for a multinational corporation, and pursues a Master's Degree in Business Management at the University of San Jose-Recoletos in Cebu.
"I owe a lifetime of gratitude to the Aboitiz Foundation for helping me and my family build a better quality life through education," Sapues shared, recalling how both his parents constantly reminded him about the value of education.
While poverty, according to Sapues, is what held his parents (a farmer/part-time factory worker and a housewife) back, killing their beliefs and aspirations in life, it is also poverty that propelled them to dream big for their children.
The Aboitiz Group, through its social development arm Aboitiz Foundation, responds to help achieve the United Nations Sustainable Development Goals No. 1 (No Poverty) and No. 4 (Quality Education) by giving opportunities to bright and promising yet financially-challenged students to have access to quality education.
"Our education programs aim to bridge education to employment so that  individuals will be empowered to create a better future for themselves and their families. Our social impact is measured not only by the numbers but by the quality of lives changed," said Aboitiz Foundation president and chief operating officer Maribeth Marasigan.
The Aboitiz Foundation recently announced that applications for the Aboitiz College Scholarship Program (ACSP) are already open for school year 2021-2022, particularly for students who are pursuing degrees in data science, digital transformation, engineering, information technology, sales,  e-commerce, agriculture and nutrition.
The scholarship which started in 2000 has so far assisted nearly a thousand students. It provides a comprehensive benefit package which includes full tuition fee coverage, monthly allowance, and board review fees for degrees that require board exam after graduation.
To qualify for the program, applicant must be a full-time incoming freshman of an eligible college or university, must be pursuing a degree identified by the Foundation, has a general weighted average (GWA) of at least 88% with no failing grade and incomplete grade, and  does not have a record of any form of disciplinary action. One must be able to accomplish the application form and submit the requirements on time.
Applicants must also submit a certified true copy of their senior high school report card, recommendation letter and GWA/GPA certification (with percentage equivalent) from the Principal and certifications supporting leadership experience and awards received. Community involvement must be attached in the online application form.
The screening process includes panel interviews. Interested applicants can apply online through the Aboitiz Foundation website at aboitizfoundation.org. Application period is from January 29-March 15, 2021. Qualified applicants will be notified by the end of April.