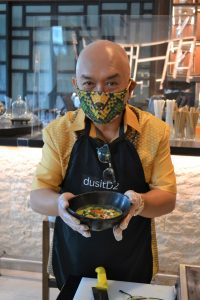 IT WAS was a few days after the New Year when Dusit D2's Director of Sales & Marketing, Lannie Alkuino Merilo, contacted me. "Dusit D2's Benjarong Restaurant and Bar is launching its Thai cooking classes on January 26. We would like to invite you as one of our guests," she said.

Of course I readily accepted the early invitation. It made me recall the unforgettable lunch of great Thai dishes I had at Bangkok's Jim Thompson Restaurant and Wine Bar located within the renowned and lushly landscaped compound of the Jim Thompson Museum.
The Museum with restaurant and shop is located at the heart of the central city's premier Siam district. After the meal, my traveling companion, Arch't. Aimee Maceda Aquino, then asked me to describe Thai cuisine.
I remembered answering her that Thai cuisine focuses on saltiness, sweetness, sourness, bitterness and spiciness. Thai cuisine is truly a blend of varying vibrant flavors and textures with its generous use of herbs, spices and vegetables. I was hooked. It never entered my mind though to learn how to cook Thai food until the invitation from Lannie came up. So, why not?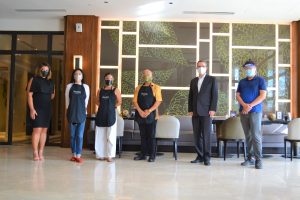 Dusit D2 Davao's authentic Thai restaurant promises to give Davao's Thai food lovers how to cook traditional Thai dishes in a two-hour session with chef Suthin Songmuang. Thai food lovers may now experience a unique culinary journey and are guaranteed to learn the famous Thai chef's signature dishes when booking a session right here in Davao City.

Last January 26 at 3:30 p.m., Dusit D2's Manager Christophe Kuch, Lannie A. Merilo and the new Assist. Marketing & Communications Manager Faith Dimaano warmly welcomed the wannabe cooks to the first ever Thai food cooking class of Dusit D2's Benjarong.
Thai chef Suthin presented his menu sampler consisting of an appetizer, soup, and the main course. "These dishes fully represent my country's culinary heritage and culture.

My cooking style comes from the Isan region, Thailand's largest agricultural region and a multi-cultural area rich in history, where I grew up.
Yes, I started to learn how to cook while assisting my mother at a young age. Thai cuisine is best described as dishes having rich flavors with the generous use of fresh herbs and strong spices that put comfort in a plate," chef Suthin Songmuang told the guests.
"For starters, aspiring Thai cooks would usually make the Yum Nua Yang or the beef salad, which has for its ingredients grilled beef, celery, onion, tomato, and mint.
The classic Tom Yum Goong, the famous hot and sour soup, consists of galangal, lemongrass, Kaffir lime, tiger prawn, and chili. And for the main dish, guests will learn how to cook Gang Khieo Wan Gai, a Thai green curry dish of chicken, basil, chili finger, eggplant, and kaffir lime," chef Suthin said as he introduced his signature Thai dishes which he serves at Benjarong.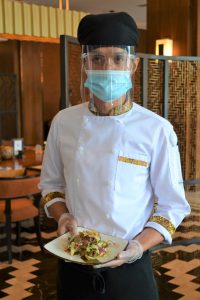 Benjarong's culinary team ensures the guests that their cooking experience will be as engaging and interactive as possible, with tips and tricks revealed during the class. "We aim to let the participants enjoy Thai cooking in the comfort of their homes and share Thai food with their families after the cooking classes.
It's a good way to bond especially during these times when most stay at home," said the serious GM Christoph Kuch.
Thai Cooking Classes are offered every last Tuesday of the month from 2:00 PM – 4:00 PM. The package comes with a three-course recipe, complimentary chef's toque and a Dusit Thani apron. For reservations and inquiries, email fb.reservations@dusitdavao.com or call (082) 322 7000/(082) 322 7500.