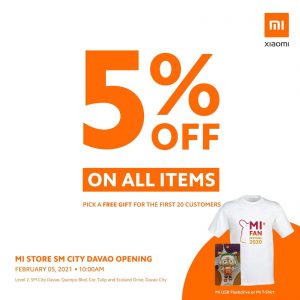 The country's largest Authorized Mi Store is set to open tomorrow, February 5, at SM City Davao.
With a store size of 243 square meters, the Authorized Mi Store houses a wide array of products that are fit for home and personal use. It is the firm's 23rd branch in the country and the second in Davao City.
As an opening day promo, Mi will offer 5% discount deals on all items. Shirts and flash drives will also be given for the first 20 customers.
Remember to always practice #SafeMalling measures while visiting and shopping at Mi Store, Second Floor, SM City Davao-Annex