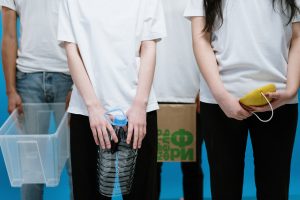 Picking up pace with the new year and doesn't always have to be boring or challenging. You don't always have to go about your routines alone. Stay connected with friends and keep yourself and your bestie busy with productive and fun things to do together!
This helps create a nice rhythm and routine to follow as you welcome better days while keeping safety protocols in mind.
Here are some activities that you can try:
Exercising is outside is generally safe. Pick a good spot outside your house and stream your favorite music or workout from your smartphone. Riding a bike around your neighborhood also gives you an exercise high! Get the best workout gear (and check out the new Foldy London folding bike) in Chris Sports in SM Lanang Premier.
Declutter and get cash from your trash. Sift through the mess in your room or home garage and find items that you can sell in recycling markets like SM's Trash to Cash program. Bring plastic and PET bottles, tin and aluminum cans, old books and newspapers and scratch papers, metal cookware and kitchen items and sell these for some cash. This recycling market happens every first Friday and Saturday of the month in SM Lanang Premier's Open Parking D, and in SM City Davao's Open Parking C.
Pamper yourself after a long day of work. Book a spa date with a bestie get a hand or foot spa to ease your stress at Nailandia in SM Lanang Premier and SM City Davao. Call 285 0943 or 297 6998. It's a great bonding experience, really!
Enjoy the many ways to stay productive and connected while staying safe and keeping tabs with your general well being.