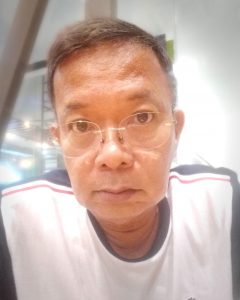 THE IDEA to hope that all will be better in the future, while at the same feeling miserably stuck in this pandemic present tense, is one exercise that is sure to end in futility.

It's as though one is bent and already raring to go, having one foot out the door, but then feeling anxious and ambivalent at the same time, with the other foot still firmly set inside the threshold.

Surely, a few will argue that the contrasting emotions cannot possibly be fused. Well then, let's just say, not equally sliced in the middle perhaps, but the idea exists.
For all that it is worth, the thought may indeed seem contradictory, but to add to that, it is likewise ironic as well.

As you ponder on the rosy picture beyond the horizon, the reality is, you are still deeply grounded to what is the now.
Planning for that future, where things are envisioned to be better, can only get you there if you substantiate it with action. As it is, we totally get the message that "the sun will come out tomorrow", but that is only as far as it goes.

No one can truly discount the fact that we exist in stranger times, with a deadly pandemic a-raging and isolation rules dictating our every move. All these factors greatly on how we hope, perceive, and plan for whatever is up ahead, be it day to day, or into the farther-away future.

As it is, there are those who mix their futuristic visions with their present-day angst, resulting in either a much-slower or no realization of that sought-after goal. Perhaps that could explain some of the thrashing about and the lashing out at each other, they are verbal or not, all indicatively present in both social media and in the real world today.

Unknown to everyone, there was an incident a long time ago when I very nearly drowned. We have been snorkeling off a nearby island when I momentarily panicked because of something I thought I saw.
The seconds, spaced between actual pain of inhaling saltwater, wildly flailing about trying to hold on to then-nothing, mixed with true wide-eyed fear, and then a slim yet slowly-growing resolve within to calm down or else, I will never ever forget for as long as I live. As a result, I share this tale only now because, after keeping this as an exclusively-private treasure for a long time, it's become important: that whatever we see that future to be, it amounts to nothing if we're dead.

In parallel, it is never enough to casually say we'll always win through as the moment we give in, despite our dreams, we lose. Our late high school teacher, Leoncio Deriada once said, "It's not enough that one go to church and pray to God that he lets you win the sweepstakes lottery, you have to buy a ticket first!"